2 European Automakers Break All-time CPO Records in April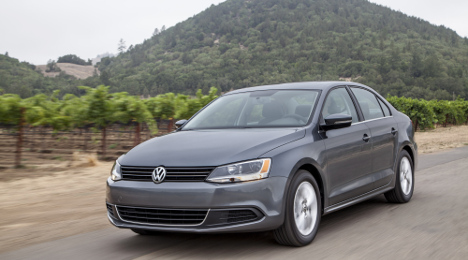 TORONTO -
As the first quarter wrapped up, two European automakers secured all-time certified pre-owned monthly sales records in April.
First up, Volkswagen Canada broke the first all-time record month it notched in March by over 100 units this past month.
In April, the company sold 1,635 CPO units, breaking another record, and soaring above April 2013 sales results of 1,310 cars sold.
In March, the automaker sold 1,513 CPO vehicles.
"Congratulations once again to our dealers and field staff for another all-time record sales month … well done!" said Luigi Fiorno, manager of used-vehicle sales for VW Canada.
Audi Canada also landed a best month ever for CPO sales.
The company sold 573 CPO vehicles in April, which marks a 12-percent increase from May and a 13-percent rise year-over-year.
The Mercedes-Benz Pre-Owned division saw a slight rise in CPO sales last month, as well, reporting 1,266 vehicles sold in April.
This translated into an overall gain of 3 percent, with 4,250 CPO units delivered so far in 2014.
Over at Volvo Cars of Canada, the company sold 125 CPO rides in April, down 18.8 percent from the 154 sold during the same period of 2013.
That said, the sales marked an increase from lows seen earlier this year.
"Certified pre-owned sales totaled 125 units for April, marking a 31.5-percent increase over the previous month," says Emanuel Lichtinshtein, national fleet sales, CPO and remarketing manager, Volvo Cars of Canada Corp. "Our detailed inspection process and comprehensive warranty contribute to a competitive CPO program that provides tremendous value and peace-of-mind for customers in search of a previously enjoyed luxury vehicle."
Volvo has sold 414 CPO vehicles this year so far in Canada, down 14.4 percent from 2013 rates.
Moving over to highlight the Asian OEMs, Mazda Canada saw a bit of a rise last month, though its sales rate year-to-date still sits slightly below 2013 numbers.
The company sold 491 CPO vehicles in April, up from 478 sold during the same period of 2013.
Year-to-date, the company has sold 1,627 certified vehicles, down from 1,688 sold during the first four months of 2013.
Over at Toyota Canada, it seems the automaker still may be struggling with tight used supply, as it experienced a bit of a downturn in CPO sales in April.
Toyota Canada sold 1,760 CPO vehicles last month, down from 2,236 sold during the same period of 2013.
This brings the company's year-to-date CPO sales to 5,935, down from 7,202 sold during the first four months of 2013.