2015 AR Canada Conference Breaks Attendance, Expo Hall Record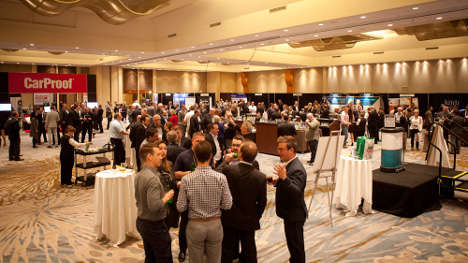 TORONTO -
Where were you Monday and Tuesday of this week?
Chances are either you or your colleagues traveled to the 8th annual Auto Remarketing Canada Conference in Toronto, presented by CarProof.
This year, the conference was once again held at the Westin Harbour Castle, touting 735 registered attendees, 284 of which were dealers.
These numbers illustrate significant growth, drawing over 100 more registered attendees than the 2014 event.
This year's expo hall also doubled in size — the largest the conference has ever seen — featuring a total of 34 companies.
Attendees and speakers included dealers, auctioneers, remarketers, consignors, OEMs, finance execs, digital marketers and more.
For nearly a decade, the Auto Remarketing Canada Conference has been preparing the industry for the road ahead. Attendance at the conference continues to grow year-over-year, with 2015 setting a new benchmark for both number of participants and size of the expo hall.
"Each year, we are impressed and humbled by the support and interest from our Canadian partners in the annual Auto Remarketing Canada Conference. This year, our growth was exponential, and we want to offer our sincere thanks to our sponsors, exhibitors, speakers and attendees," said Bill Zadeits, conference chairman and publisher of Auto Remarketing Canada. "We are already looking forward to 2016 and are convinced it will be another record breaking year."
Speakers included well-known names in the remarketing industry such as Paul Potratz, chief operating officer at Potratz Advertising; Michael McCarthy, vice president and general manager of Dealertrack Canada; Brad Hart, chief operating officer at TradeRev, and many, many more.
This year's attendees were given the chance to be involved in a variety of new offerings, including our closing reception, "A Celebration of Success."
During the event, Auto Remarketing Canada and reception sponsors — DealerTrack Technologies, SiriusXM, ADESA, TRADER, SCI MarketView, Manheim, NextGear Capital, Kia Motors Finance, Hyundai Motor Finance and TradeRev — offered attendees appetizers and specialty martinis, as well as the highlight of the night: a charity auction to benefit Make-A-Wish Canada.
Generous attendees took home signed hockey jerseys, a family-stay package at the Westin Harbour Castle, and tickets to the Ruth Hart Stephens and Bob Beattie Golf Tournament.
Together, Auto Remarketing Canada Conference attendees and sponsors helped raise $5,700 for the central Ontario and Toronto chapters of Make-A-Wish Canada.
Didn't make it this year? Well, we have you covered. Mark your calendars for April 4-5, 2016, where the next Auto Remarketing Canada Conference will be held at the Westin Harbour Castle in Toronto.
Stay tuned to Auto Remarketing Canada next week for an inside look into some of the insight and analysis from the 2015 Auto Remarketing Canada Conference speakers.