2016 Canadian new-vehicle sales to remain flat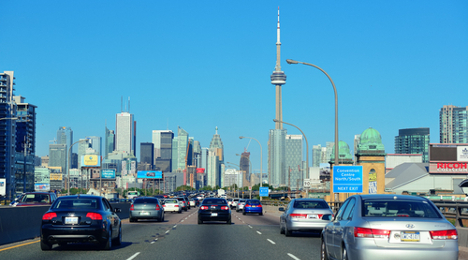 TORONTO -
Scotiabank released its Global Auto Report on Wednesday, predicting that new-vehicle sales in Canada will end up roughly the same as 2015's tally of 1.9 million units.
Looking closer at the numbers, Scotiabank's predicted 1.9 million units to-be-sold for 2016 is slightly higher than the 1,898,000 vehicles that were purchased in 2015.
In the report, the company says that it expects the sales volumes to remain largely flat for the year "as diverging trends between the industrial heartland and commodity producing regions balance each other out."
Carlos Gomes, Scotiabank's senior economist, summarized some of the expected factors to be at play that will be a theme in 2016.
"Car and light truck sales will continue to be supported by low interest rates and stimulative financial conditions around the world," Gomes said. "Economic activity and demand for new vehicles will continue to be buoyed by the strongest advance in Canadian non-resource exports since the new millennium, as well as by strengthening U.S. demand and a currency which recently fell below 70 cents (U.S.) for the first time since early 2003.
"Diverging trends between the industrial heartland and commodity-producing regions are expected to balance each other out in 2016, keeping volumes unchanged. Stronger employment growth and economic activity in the export-reliant manufacturing provinces will lift sales in these markets, but deteriorating fundamentals and weakening demographic and income trends will continue to pressure volumes in other regions."
Some other highlights of the report, according to Scotiabank, include the following:
Even with sluggish global demand, 17 out of Ontario's 21 manufacturing sectors posted double-digit export gains in 2015.
Broad-based manufacturing export gains are also expected to lift economic activity and vehicle sales in British Columbia and Quebec in 2016. Strengthening exports are particularly evident in British Columbia, with nearly half of all manufacturing industries posting export growth in excess of 20% in 2015.
In Alberta, new-vehicle sales declined 12 percent last year to 236,000 units. A further slide to 220,000 is projected for 2016, as oil companies continue to curtail their capital expenditures and the labour market weakens amid a large overhang in global crude oil inventories.
Vehicle sales in the remaining provinces were in line with expectations last year. Volumes declined in Saskatchewan and Newfoundland, undercut by the downturn in the energy sector, and were unchanged in Manitoba and edged higher across the Maritimes.
Click here to check out the full report.