2019 Remarketing's Under 40 honorees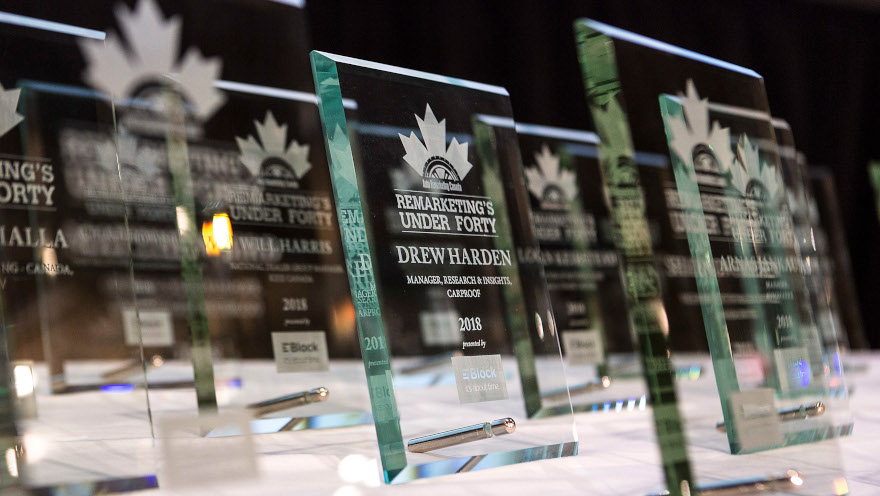 CARY, N.C. -
The Canadian auto industry, be it retail, remarketing or finance, is full of young men and women who have achieved massive success at an early age.
And for the fifth consecutive year, Auto Remarketing Canada is excited to honor many of those individuals in "Remarketing's Under 40."
Thank you to all who submitted nominations. While we could not include everyone who was nominated, it was truly inspiring to learn about the young people who are making waves in Canada's auto industry.
We recognize several of those outstanding leaders here as well as in the March-April edition of the Auto Remarketing Canada magazine and on site at this month's Auto Remarketing Canada Conference, which is being held March 19-20 at the Westin Harbour Castle in Toronto.
Without further ado, below is the 2019 class of Remarketing's Under 40, which is presented by Eblock (in alphabetical order by last name):
ALICIA AGNEW, Leader, Dealer Support, SCI MarketView
BLAIR ALLISON, Senior Manager, Remarketing, SiriusXM Canada
VAS BABUSCHIN, Senior F&I Manager, VOS Motors
PAUL BARNES, Associate Vice President of Business Development, Carfinco Inc.
DAVE BARROW, President, Super Dave's Auto Sales
BLAKE BRADLEY, Dealer Development, EDealer
BURGANDI CAUDLE, Strategic Account Manager, Cox Automotive Canada
BRAD COCHRANE, Director of Sales Operations, NAPA Canada
MICHAEL CIRILLO, CEO of FlexDealer and Host of The Dealer Playbook podcast
ROMIT DATTA, Remarketing Specialist, Honda Financial Services
BRAD DICKERSON, Director, New Business Development, LGM Financial Services Inc.
KRYSTAL DUNN, National Sales Manager, 90 Day Pool
MEAGHAN FREDERICKSON, Analyst, Used Vehicle Operations, Honda Canada Inc.
RODRIGO GUIZONI, Product Manager, Cox Automotive Canada
ABBY HADDAD, Regional Director, NextGear Capital/Cox Automotive Canada
NASAR HAMAMI, Dealer Principal, Seven Speed Motors Inc.
PATRICK HOANG, President, StreetXtreme Auto Gallery and StreetXtreme Autobody
OSMAN HEGGI, Global CEO and Co-Founder, Winfooz
KAL IDRISS, Operational Manager, That Car Place Inc.
JUSTIN KLEE, Owner/Founder/Partner, House of Cars Group Inc.
JOE KUPFER, Partner, Auto Show Sales & Finance
HILTON LEE, Engineering Manager, ADESA
STEPHEN LEECH, Dealer Principal, Guelph Kia
AMIR LEHRER, Digital Strategy Consultant, Ford D3
DAN LESLIE, Business Development Manager, ADESA
BRYAN MCINTYRE, Senior Manager, Remarketing, Hyundai Capital Canada
JONATHAN D. MIRECKI, National Sales Manager, Carpages.ca
JASON MISTRY, Director of Operations, EBlock
CARRIE OLIVA, Director of Product Development, Strathcom Media
FRANCESCO OLIVETI, President, Option B Solutions Inc.
CANDICE PAHAL, Dealer Services Consultant, iA-SAL
REENA PATEL, Administration Manager, Northstar Acceptance Corp.
CHRIS SAMADH, Director, Customer Experience, autoTRADER.ca and TRADER Corp.
LUIZ SEDEH, Marketing Manager — Branding & Analytics, TradeRev
DILPREET SINGH KALSI, Group Marketing Manager, Rafih Auto Group
JON TOKER, Used Vehicle Consultant, ES3
CASSANDRA D. VASSOS, Director of Finance, Approval Team
WILTON WONG, Senior Director Automotive and Insurance, Strategy & Innovation, Equifax Canada Co.