2023 Women & Automotive Profiles in Leadership honorees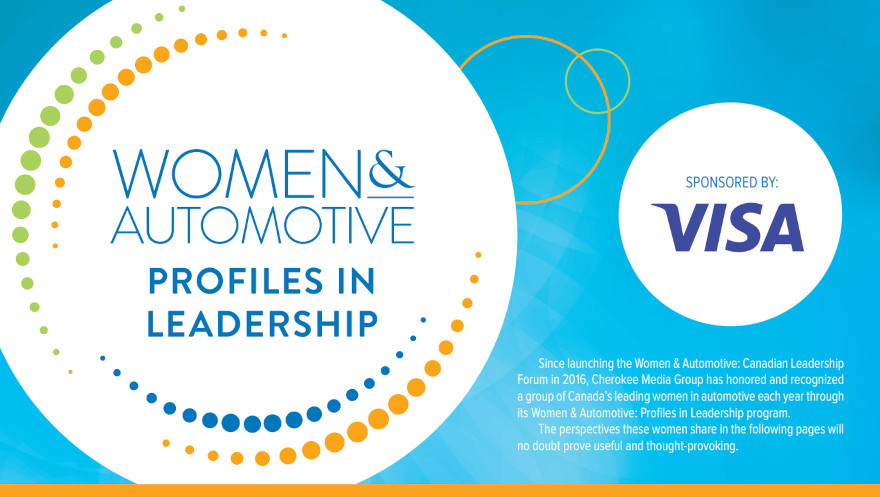 Since launching the Women & Automotive: Canadian Leadership Forum in 2016, Cherokee Media Group has honored and recognized a group of Canada's auto industry leaders each year through its Women & Automotive: Profiles in Leadership program, which is sponsored by VISA.
And we're excited to announce our 2023 honorees, who will be recognized in the upcoming edition of the Auto Remarketing Canada magazine and at Canada's Used Car Week this June.
Below is this year's group of Women & Automotive: Profiles in Leadership honorees:
Bobby Aubi, Bolton Hyundai
Michaella Bransfield, CarGurus
Taylor Bursey, Copart
Tasha Busch, Rifco National Auto Finance
Jennifer Chapman, Foss National Leasing
Lisa Chin-A-Loy, taq Automotive Intelligence
Marcela Coellar, Ontario Motor Vehicle Industry Council
Julie Cram, Axis Auto Finance
Karen Davies of ia Auto Finance
Magda Demydczuk, IAA Montreal
Christy Fines, 400 Chrysler and Barrie Chrysler
Alexandra Goslar, CIBC
Amy Huitema, Haldimand Motors Ltd.
Haeri Lee, AutoTrader.ca
Mary Liptay, The Great Northern Auction
Vivian Liu, Autozen
Kristin Macintosh, Kijiji Autos
Tracey McDonald, ADESA Canada
Kayla McGray, Miranda Pyette Automotive
Katherine Mior, Hyundai Auto Canada
Robyn Murphy, Halton Honda
Emma Pye, NextGear Capital
Maharani Rampersaud, Element Fleet Management Inc.
Jake Stacey, LGM Financial Services
Aymie Sullivan, AutoCapital Canada
JQ Smith, KAR Global