3 Factors Behind Dealer-To-Dealer Online Marketplace Adoption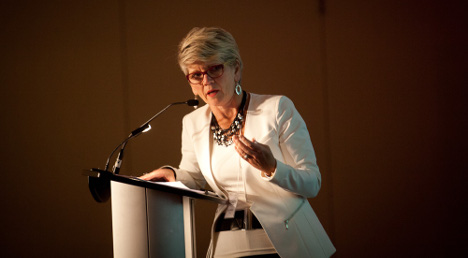 TORONTO -
At last week's Auto Remarketing Canada Conference, dealer-to-dealer auctions were a hot topic as new marketplaces have been popping up right and left, providing more wholesale options for buyers.
After a dealer-to-dealer marketplace focused panel, Auto Remarketing Canada caught up with Cheryl Munce, chief executive consultant at ALTESO, to shed some light on the factors behind the growth in this sector of the market and what it means for dealers and wholesalers.
As to what has spurred the dealer-to-dealer online auction business forward so rapidly — after the launch of popular peer-to-peer marketplace TradeRev in 2009 — convenience is key.
Munce pointed out that auction rates will go up and down, but what stays the same is the value of time.
"To dealers, time is money, and dealer-to-dealer online auctions allow them to spend as little time away from the store as possible," Munce said.
Dealers also don't want to miss a market opportunity, so many are following their peers to these new marketplaces as good reviews are shared and news of a more convenient wholesale option travels.
Munce also noted we have to look at the younger population in remarketing to get the full-picture view.
"I believe as the millennial generations are coming into the business, and I look around (at the Auto Remarketing Canada Conference) and there are a lot more younger people now. They want instant gratification … and no relationships — they don't really care as much about those relationships made in the auction lanes," Munce explained.
There are also many obvious advantages to using these online marketplaces, such as utilizing options like preferred groups.
In a preferred, closed group, "you know who the dealer/partners are who you are trading with, unlike an auction that is open up to any and all dealers," said Munce.
"And the dealers, by nature, are skeptics, and they are very competitive and they only want to deal with people that they like and that they trust. So I think that is one ace in the hole for these dealer-to-dealer platforms. It is a trusted network," she continued.
With dealer-to-dealer auctions, it is crucial that buyer and seller trust each other.
When asked whether the industry doing a good job of making sure arbitration policies are thorough and the buying/selling process is as transparent as possible, Munce said these marketplaces are "learning as they go, and enhancing where it's needed."
One disadvantage cited by many analysts to these smaller, online marketplaces is the potential to make just a bit less money on your units than you might in the auction lanes.
Munce attributes this to the fact that dealer-to-dealer marketplaces are "not as grand as the auction wholesale marketplace, so therefore, it's not as robust."
In any auction environment, the more buyers and eyes on the cars means potentially more money for the wholesaler.
"So, you can apply pricing tools all day long, but how do you really know that if there wasn't another 200 buyers on those cars that there wouldn't be as much one more guy who is going to pay you $100 more?" Munce asked.
Marketplaces such as TradeRev are already addressing this issue, with the recent launch of its "Send to ADESA" feature, which allows its users to push unsold vehicles on the site to the physical auction as a second stop in the remarketing funnel.
Many have questioned whether dealer-to-dealer online auction marketplaces have taken off recently due to the tight used supply environment in Canada and dealers being forced to utilize alternative sourcing methods.
But one other way to look at is, regardless of whether digital remarketing technology hadn't taken off when it did, there would still be the same number of cars at the auction today.
That's the angle Munce took, noting, "All that it is happening is it (wholesale supply) is the same pie, but they are shifting it. It's like the flavor of the month, and I'm not saying dealer-to-dealer and digital auctions are the flavor of the month, I think dealers are jumping in — they are trying it out," said Munce. "If it's fast and efficient, and if they are finding good deals, and they are selling for the right price, they are going to come back to it."
Munce contended the market has simply moved some of the inventory from the physical auctions to the dealer-to-dealer online marketplaces.
"Consequently, dealers have to go there and try it out and look everywhere for stock," Munce concluded.