3rd Mercedes-Benz Canada store to open in Calgary in 2017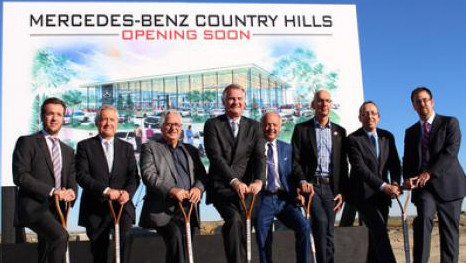 TORONTO -
On Saturday, Mercedes-Benz Canada broke ground on its third store in Calgary.
The McManes Automotive Group will be continuing its expansion with the new store, Mercedes-Benz Country Hills.
This store adds to a list of construction projects the auto group currently has in the works, including new Chrysler Dodge Jeep Ram Fiat, Kia and Hyundai stores.
This past weekend Tim Reuss, president and chief executive officer of Mercedes-Benz Canada, and several company executives, joined Calgary city councilor Jim Stevenson, Jim McManes, the auto group president, Mike McManes, general manager, and Rick Bowie, vice president of real estate of McManes Automotive, to break ground at the site of the future dealership in Northeast Calgary.
Mercedes-Benz Country Hills — scheduled to open its doors in 2017 — will be situated on a 7.8-acre site on Stonehill Drive NE, which the company explained is located in the heart of a recently expanded area of Calgary.
"The City of Calgary has experienced exponential growth over the course of the past few decades and the future continues to augur well for the Stampede City. By introducing a retail point in a newly minted neighborhood, Mercedes-Benz wanted to keep a timely and opportune pace with the city's significant urban sprawl by providing even further customer convenience in this very important Calgary market," said Reuss. "I am delighted to officially welcome Jim McManes to the Mercedes-Benz family. Mr. McManes and his team have clearly demonstrated their understanding and commitments to our overall objectives and their vision is undoubtedly poised for future growth."
The 94,500-square-foot dealership will incorporate both new and pre-owned vehicle showrooms.
And approximately 50,000 square feet have been allotted for the dealership's service area, which will include 30 bays.
The company also is taking into account the extreme weather conditions found in Calgary in the design of the new store.
The new dealership will also focus on providing amenities to its customers, such as a full-service deli style restaurant and a hair and nail salon.
The layout of the facility will follow the Mercedes-Benz Auto Haus design standard, which includes extensive used of glass, and the exterior will represent the new Mercedes-Benz retail corporate identity, which focuses on black components with silver accents.
Jim McManes said, "In keeping with the spirit of the pioneering West, we are thrilled to expand the reach of the brand that invented the automobile. We are committed to building a business with the mission of serving existing and future customers all the while providing a compelling ownership experience. We are confident that the know-how we have gained from managing multiple retail operations will greatly contribute to the continued success of Mercedes-Benz in Calgary."
The new store will add to the automaker's presence in Calgary, joining Mercedes-Benz Downtown Calgary and Lone Star Mercedes-Benz.