4 Questions with Mercedes-Benz Canada CEO Brian Fulton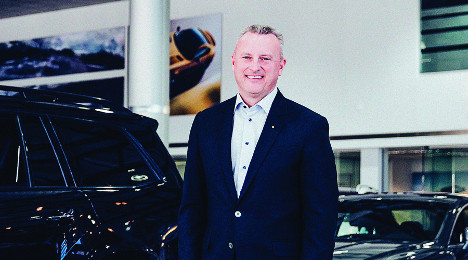 CARY, N.C. -
As part of the Executive Issue special section in the May/June edition of the Auto Remarketing Canada magazine, we connected with Mercedes-Benz Canada president and chief executive officer Brian Fulton.
The emailed Q&A covers Fulton's approach to leadership, the company being named a top workplace, its used-car operations and more.
Auto Remarketing Canada: Congrats on Mercedes-Benz Canada being recognized among the Best Workplaces in Canada. What makes your company an ideal place to work?
Brian Fulton: Thank you; we are very proud to have received this recognition in 2017. There is no question that this was a team effort. It's also a reflection of each and every wonderful colleague who calls Mercedes-Benz Canada their workplace "home."
When we started on this GPTW journey last year, we came to the very quick conclusion that in order to deliver "The Best or Nothing" service to our Mercedes-Benz dealers and customers, we first needed to provide an enjoyable and rewarding work environment for our employees.
Quarterly town hall meetings, increased number of promotions and job rotations, an attractive company car program, which includes insurance, represent a few of the features which helped us earn this valuable employer of choice acknowledgment. While we're pleased with our results to date, we realize we still have plenty of room to continue to improve.
ARC: How would you describe your leadership style and approach to problem solving?
Fulton: I'm very proud of our dealers and of our team and of the results we have achieved together, but I'm always focused on the opportunities we have to become even better. Competition never rests and it is my goal to stay one step ahead by finding new and better ways of serving and supporting our dealers and customers. My approach is to simply surround myself with inspired and talented people who are as equally committed to winning as I am and who want to have FUN doing their job. I also maintain that we have to make a point of celebrating our accomplishments.
ARC: On the used-car side, certified pre-owned sales are up 4.2 percent year-to-date through April for Mercedes-Benz Canada. What is driving that growth?
Fulton: The growth we are seeing in pre-owned sales is a natural reflection of our overall growth. We have enjoyed a record-breaking first quarter in both the new and pre-owned sides of the business. Our certified pre-owned program is very competitive and provides our pre-owned customers peace of mind when they purchase, lease or finance.
Regardless of whether they are looking for a new or pre-owned vehicle, Canadians recognize the impressive design, safety and technology and the excellent price value relationship of our passenger vehicles.
ARC: What are some of the top challenges for automakers in the Canadian market, and how are you responding?
Fulton: Our industry is constantly changing and evolving. You've heard it a hundred times by now, and I also believe it: We will experience more change in the Canadian automotive landscape in the next 10 years than we've witnessed in the past 100!
The way I see it, there are three key challenges facing Canadian OEMs: (i) delivering an incredible customer experience to Canadian consumers throughout the entire lifecycle with their OEM; (ii) meeting and exceeding our retail customers' expectations in an ever-changing digital environment; and (iii) setting the stage for the shift from internal-combustion engines to a combination of alternative powertrains and living in a world where car-to-car connectivity will allow complete autonomous driving.
While some of these deliverables will not happen tomorrow or even before the end of this decade, these three mandates are nevertheless "work in progress" at Mercedes-Benz Canada.
We have the distinct benefit of having a highly experienced and open-minded Dealer Advisory Council working by our side. We recognize how imperative it is to navigate these newly chartered areas in close partnership with your dealer network. We look forward to these exciting challenges.