9 honored by AJAC as best new vehicles on road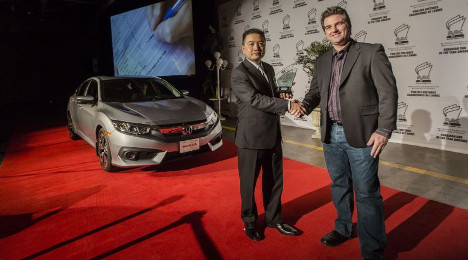 TORONTO -
Auto dealers: Here are nine new cars you might want to begin focusing on in your sales department.
The Automobile Journalists Association of Canada has released nine "Best New" category winners for 2016, including double wins for both Volkswagen and Mercedes-Benz.
The nine vehicles are now in the running for the overall Canadian Car of the Year and Canadian Utility Vehicle of the Year awards, which will be announced at the Canadian International Auto Show in Toronto in February.
For 2015, the Subaru Legacy was named the Canadian Car of the Year, while the Ford F-150 took home the award for utility vehicles.
AJAC will also announce the winners of its Canadian Green Car of the Year awards at the Vancouver International Auto Show in March.
How were the nine winners chosen? Well, the race was on when some of Canada's best-known auto journalists gathered this past October in Clarington, Ontario for a four-day test-drive evaluation of brand-new or significantly changed models for an event known as "TestFest" held at the Canadian Tire Motorsport Park.
"TestFest is the most intensive new-vehicle evaluation process on the planet," said Gary Grant, co-chair of the Canadian Car of the Year committee. "No other organization employs such stringent testing methods to determine its award winners."
During the event, 71 auto journalists each drove vehicles in their categories — one after another on the same day and under the same conditions to ensure objective comparisons, AJAC shared.
"Our program is absolutely testing-based," said Justin Pritchard, also co-chair of the Canadian Car of the Year committee. "We have dozens of experienced vehicle testers driving dozens of vehicles, back to back, over the course of several days. This testing process generated 1,911 test drives, producing over 110,000 data points and 1,701 category ballots. It's important to note that every aspect of this testing data is shared online via our website, so shoppers can see how any given vehicle won its category, or how it stacked up to the category winner."
The results were tabulated by KPMG, which works with AJAC and its Canadian Car of the Year awards, and the categories cover segments ranging from Best New Sports/Performance to Best New SUV/CUV.
And most of these core categories are divided into price ranges to better provide fair and relevant comparisons, giving dealers another marketing tool when working with customers within a specific price budget. The winners are as follows:
2016 CANADIAN CAR OF THE YEAR "BEST NEW" AWARDS
SMALL CAR
Honda Civic
FAMILY CAR
Volkswagen Golf Sportwagen 1.8TSI
SPORTS/PERFORMANCE under $50K
Volkswagen Golf R
SPORTS/PERFORMANCE over $50K
Mercedes-Benz AMG C-Class (C 63 S)
PRESTIGE/PERFORMANCE
Mercedes Benz AMG GT (S Coupe)
PICKUP
Chevrolet Silverado
SUV/CUV under $35K
Mazda CX-3
SUV/CUV $35K – $60K
Kia Sorento
SUV/CUV over $60K
Volvo XC90