Accu-Trade comes to Canada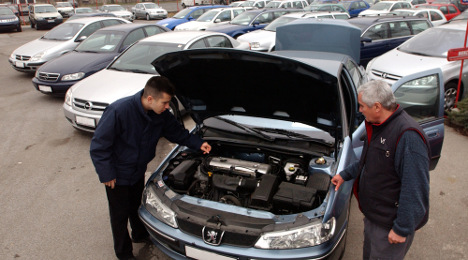 TORONTO -
R. Hollenshead Auto Sales announced it has launched vehicle valuation tool Accu-Trade in Canada, giving dealers a mobile platform to capture leads, increase customer trade-ins and generate appraisals.
"Now, dealers have access to the same tool I use to buy and sell up to 1,000 cars a week. I am so confident in the pricing, I instruct our buyers to buy anything based on Accu-Trade Appraiser Pro values," said Bob Hollenshead, Accu-Trade co-founder.
"The Accu-Trade lead generation tool installs directly on dealership websites, so customers can value their trade-ins, generating leads that convert at a higher level than any other lead source," Hollenshead continued.
Accu-Trade can generate customer leads directly from the dealer's website with an Instant Offer tool that values their trade in seconds. Leads can be routed to the dealer CRM and to Accu-Trade's Appraiser Pro, giving dealers the opportunity to complete a transparent and interactive trade-in appraisal with the customer.
Accu-Trade Instant Offer and Appraiser Pro can work together to give dealers a complete platform to manage vehicle leads and appraisals. Instant Offer can give consumers a simple way to appraise their trade-in, right from a dealership website. Dealers can customize Accu-Trade Instant Offer to adjust offer prices based on market conditions, or change messaging to consumers based on special offers or other promotions.
"We know trade-in valuation is one of the most tedious parts of the vehicle sales process — for dealers and customers alike — especially when pricing vehicles that are uncommon, very expensive, exportable, or have bad vehicle history reports. Accu-Trade takes the guesswork out of pricing and allows dealers to appraise any vehicle — accurately. Accu-Trade tells you everything you need to know about the vehicle and guides you to a market-driven number that is right on the money," Hollenshead said.
At the core of the valuation platform is Accu-Trade's independent and precise pricing.
"Every vehicle is unique, so dealers need more than standard pricing to get an accurate vehicle value," said Rob Bulyovsky, Accu-Trade's president and co-founder. "Accu-Trade tracks values for thousands of makes and models, and gives dealers precise valuations reflecting real-time market conditions. Accu-Trade makes it easier for shoppers to trade their vehicles and for dealers to engage these highly-coveted customers."
As part of the Canada launch, Accu-Trade is partnering with Selectbidder.
"We're excited about the Accu-Trade product and partnership. We have a great team in place and are ready to offer Canadian dealers a suite of products that consumers and dealers want," said Sean Liptay, founder and chief executive officer of Selectbidder.