ADESA, Manheim veterans join eBlock executive team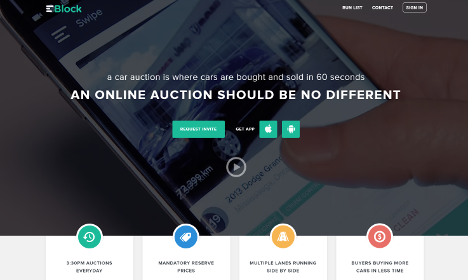 CARY, N.C. -
Earlier this year, Canadian online car auction eBlock brought on Jason McClenahan as chief operating officer and Brad Hart as director of commercial accounts.
McClenahan started with the company March 1 and Hart joined on April 3.
Joined by eBlock chief executive officer and president Ryan O'Connor, they talked with Auto Remarketing Canada by phone in mid-April about the changing nature of the wholesale auto industry, their goals for eBlock and more.
Goals for new positions
As COO, McClenahan aims to expand the company's sales and operations team while also broadening the company's Canadian presence. Eventually, the company also plans to move into the U.S.
Meanwhile, Hart will focus on the commercial side, building and working on relationships with the various players in that space.
"The unique thing about eBlock is that it isn't just a one-size-fits-all platform," Hart said. "There are several auction formats, and eBlock has the ability to be quite agile and to customize the platform, depending on the specific needs of the customers.
"So that really plays into the commercial side of the business. I also hope to be involved, to a certain degree, in providing input on product features and design, as well as some of the operational processes. So, just trying to support Jason and his initiatives, as well," he said.
eBlock is also rebuilding its platform, a project that is scheduled to be completed in July. Later in the year, the company plans to launch in the U.S.
As for the rebuild, O'Connor said it's based on customer feedback.
"With our current platform, we're doubling in size. Right now, year-over-year, we're up over 100 percent. The feedback was, we realized there's other things that we needed to be able to do, more than just an auction," O'Connor said.
"One of those is the trade appraisals, where trade appraisals are completely separate from auction cars or grounded trades. On our new platform, where if the car is running as a trade, it better have white plates on it, because we're really focused on getting dealers good money fast for their live trades. That's our key focus."
The auction element of it, O'Connor said, has "been our bread and butter," and will have enhancements with the relaunch.
Digital wholesale in Canada
Both McClenahan, who started with the company March 1, and Hart (on April 3) have deep backgrounds in Canada's physical auction world.
McClenahan worked in management positions for ADESA auctions, while Hart held various positions with Manheim (including its vice president of operations in Canada). They also have backgrounds in the online auction space, having both worked for TradeRev.
"The physical auctions that are going to win and are going to stay around, to be honest, are going to be the ones that are complemented by the best technology," McClenahan said.
And that's the aim of the company. He emphasizes that eBlock is not telling dealers not to use physical auctions.
But brick-and-mortar auctions might not have the same growth rate as they did in the past, McClenahan said, and he anticipates cars will be sold through upstream, online and dealer-to-dealer channels.
"And I truly believe way more dealer trades are going to be sold at the time of live appraisal right from the retail public, as opposed to making them down to the physical auction lanes," he said.
"And what that means for customers is, really, choice. Especially in Canada, they've really been pigeon-holed to a couple of providers. Having competition is good. It's going to give customers the ability to have choice and to run their businesses more efficiently and effectively, and desk more new-car deals," McClenahan said.
"I believe a big piece of this is building your own brand and your own reputation in your own auction, which is what you do when you host your own online auction from your dealership. And if you just go stand in the auction block every week, you're really just building up that auction's brand and not your own. And I believe new-car dealers need their buyer base, when they need it most at their fingertips, is when they're desking a new-car deal."
Increased digital appetite
Asked what's driving the digital wholesale appetite, O'Connor said that for dealers, it's largely about having control and possession of the physical asset and the quickness of the sale.
McClenahan points to the growth of the online auction in the past decade and the significant and growing percentage of vehicles that are now sold online. The online environment gives dealers more time at their office, plus more time to make decisions. And it broadens their potential wholesale buyer base, he said.
Hart points out the demographic change in the market with the younger generation: "That change in and of itself drives more to the online world," he said.
"It's not just the desktop anymore. It's mobile. So all of these new applications are mobile-formatted and we, more and more, are having mobile technology in our hands, 24-7. Also, the cost efficiencies," Hart said.