AJAC Awards Name Mazda6 2014 Canadian Car of the Year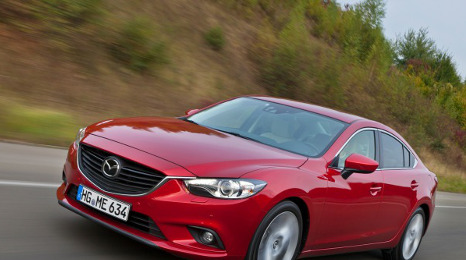 TORONTO -
During the Canadian International Auto Show in Toronto, the Automobile Journalists Association of Canada announced their picks for the 2014 AJAC Canadian Car of the Year Awards.
AJAC declared the 2014 Mazda6 the 2014 Canadian Car of the Year.
Interestingly, this is the second time that Mazda Canada has earned the overall Canadian Car of the Year title, AJAC reported, having previously won the title in 2004 for the Mazda3.
The awards are given based on a combination of objective data and evaluation by 80 journalists of 174 vehicles, AJAC officials explained.
Commenting on the news, Kory Koreeda, president of Mazda Canada, said, "We are truly honoured that AJAC has named the 2014 Mazda6 as their Canadian Car of the Year, our flagship car that demonstrates the best Mazda has to offer.
"This car introduced a combination of style, safety, fuel economy, and dynamic driving into the midsize segment that has never been available before, and winning CCOTY is an overwhelming acknowledgement of that," he continued.
The Mazda6 was also the winner of the "Best New Family Car (over $30,000)" class.
Twelve category winners were eligible for the top honors of either the "Canadian Car of the Year" or "Canadian Utility Vehicle of the Year" after being announced on Dec. 3 of last year.
Mazda won three of the 12 categories, while General Motors and Kia each had double wins.
Other winners included Acura, Jeep, Lexus, Infiniti and Mercedes-Benz.
The whole point of AJAC's Canadian Car of the Year awards. AJAC stated, "is to provide consumers with sound, comparative information on vehicles that are new to the market."
The vote results and comparative data from the entire 2014 CCOTY awards program are posted to the AJAC website for shoppers to use as a buying guide.
Interestingly, this could be used as a dealer tool, as well, since shoppers seem to be taking note of the award winners.
Maritz Research, on behalf of AJAC and in association with Honda Canada, conducted a survey of 2013 Honda Accord buyers to test their recognition of AJAC and the Honda Accord as winner of the 2013 Canadian Car of the Year award, the association explained.
All of the survey respondents noted they were award the Honda Accord was selected as the 2013 Canadian Car of the Year by AJAC.
And 56 percent of survey respondents said the AJAC Canadian Car of the Year Award had a positive influence in the purchase decision.