ALG hands out 2016 Canadian Residual Value Awards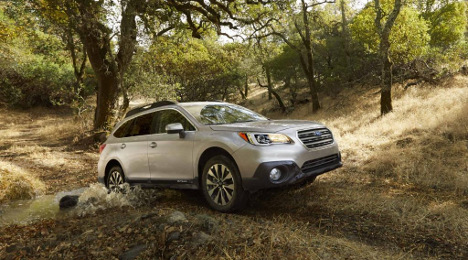 TORONTO -
ALG announced winners of its eighth annual Canadian Residual Value Awards on Wednesday with Subaru and Land Rover taking top honors for mainstream brand and premium brand, respectively.
Analysts highlighted that Subaru repeated as the top-ranking marque among mainstream brands, claiming a total of three segment awards. The haul included the Subaru Outback, a perennial winner in the midsize utility (two-row) segment.
ALG noted that an all-wheel-drive strategy coupled with disciplined incentive spending continues to be the driving forces behind Subaru's high residual values.
Land Rover's top ranking among premium manufacturers marks the OEM's second consecutive win.
Analysts explained that consumer demand for Land Rover products has increased following a newly expanded lineup and enhanced luxury amenities, resulting in limited incentive spending and high residual values. Land Rover models also won in two segments this year: Range Rover Sport and Discovery Sport.
Among mainstream brands, Toyota edged out Honda with a total of five segment awards, including the Tundra pickup truck's seventh and the Tacoma's sixth consecutive residual value award. Honda received segment awards for four of its models, including the redesigned Honda Pilot in the midsize utility (three-row) segment.
Other highlights include: The all-new Nissan Maxima's top ranking in the full-size car segment, the Porsche Panamera's first award for Porsche Cars Canada in the premium executive car segment, and the highly anticipated Mercedes-AMG GT S's top ranking in the premium sports car segment.
ALG's Canadian Residual Value Awards (RVA) recognize vehicles in 27 segments, ranging from city car to full-size commercial van, that are projected to retain the highest percentage of their manufacturer's suggested retail price (MSRP) after a four-year period for mainstream brands and three-year period for premium brands.
This year's recipients were chosen from 2016 model year vehicles that have shown strong value in their competitive segments. The awards will be presented to automakers this week at the Toronto Auto Show.
"Depreciation is the single biggest cost of vehicle ownership, and informed consumers understand the importance of resale value when making their purchase decision," said Jim Nguyen, executive vice president and general manager of ALG.
"The ALG Residual Value Award is a meaningful achievement in the hyper-competitive automotive landscape," Nguyen continued. "Residual values are a key indicator for the market success of a vehicle, factoring in quality, product execution and brand desirability as primary drivers of ALG's forecast."
Below is the full list of 2016 RVA winners:
RVA Overall
Mainstream Brand: Subaru
Premium Brand: Land Rover
RVA Mainstream
City Car: Nissan Micra
Subcompact Car: Nissan Versa Note
Compact Car: Subaru Crosstrek
Midsize Car: Honda Accord
Full-size Car: Nissan Maxima
Sports Car: Subaru WRX
Alt-Fuel Vehicle: Toyota Prius v
Minivan: Honda Odyssey
Subcompact Utility Vehicle: Kia Soul
Compact Utility Vehicle: Honda CR-V
Midsize Utility Vehicle – 2 Row: Subaru Outback
Midsize Utility Vehicle – 3 Row: Honda Pilot
Full-size Utility Vehicle: Toyota Sequoia
Off-Road Utility Vehicle: Toyota 4Runner
Midsize Pickup: Toyota Tacoma
Full-size Pickup: Toyota Tundra
Midsize Commercial Van: Ford Transit Connect
Full-size Commercial Van: Mercedes-Benz Sprinter
RVA Premium Segment
Premium Compact Car: MINI Cooper
Premium Midsize Car: Acura TLX
Premium Full-size Car: Hyundai Genesis
Premium Executive Car: Porsche Panamera
Premium Sports Car: Mercedes-AMG GT S
Premium Compact Utility Vehicle: Land Rover Discovery Sport
Premium Midsize Utility Vehicle – 2 Row: Land Rover Range Rover Sport
Premium Midsize Utility Vehicle – 3 Row: Lexus GX
Premium Full-size Utility Vehicle: Mercedes-Benz G-Class