AR Canada announces its 2016 CPO Dealer of the Year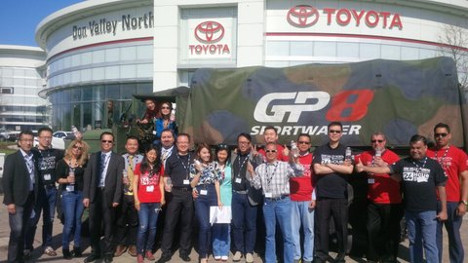 MARKHAM, Ontario -
Markham Ontario's Don Valley North Toyota has been named the 2016 Auto Remarketing Canada CPO Dealer of the Year.
The dealership might sound familiar to readers, as the Toyota store was a runner-up for the 2015 award.
The team continued to excel in the certified pre-owned department over the course of 2015, notching this year's award with a total of 855 certified units sold last year.
This is up from 801 CPO sales in 2014.
To get some insight into how Don Valley North Toyota continues to grow CPO sales, Auto Remarketing Canada reached out to George Sairoglou, director of used vehicles for the dealership.
Some of the best-selling CPO models at Don Valley North Toyota, Sairoglou said, are popular because the units "cater" to the store's clientele. For 2015, the Corolla and RAV4 were in the No. 1 and No. 2 spots, respectively, followed by the Camry, Venza and Sienna, to round out the top five.
"These models are so popular because they cater to our clientele," said Sairoglou. "The RAV4, Camry, Venza and Sienna caters to families. The Corolla caters to everyone for its known history of reliability from young and old."
When asked about some of the factors that contributed to the store's success in the certified arena in 2015, Sairoglou narrowed it down to four areas:
■ Better online presence
"Our online presence is an enormous part of our marketing success," said Sairoglou. "We created a new photo booth to showcase the vehicles. We are constantly changing our prices daily to keep competitive in the changing market."
■ Better online description pertaining to Toyota Certified Standards ■ All-new reconditioning process. All vehicles go online when they are completely ready for sale.
"We gladly spend the money to recondition the CPO unit to make it as close to new as possible," Sairoglou said. "We pride ourselves on making that CPO unit one-of-a-kind."
■ Marketing the Don Valley North Toyota Originals, which include vehicles originally bought, serviced and traded back to Don Valley North Toyota
All these factors and more contributed to CPO sales above 800 for 2015. Sairoglou noted dealership buy-in to the program is a big positive factor, as well.
"The team has embraced the value of the TCUV (Toyota Certified Used Vehicle) program and it has simply become the culture at Don Valley North Toyota Scion," he said. "We also train with our people to build the value to the customer."
And once those customers understand the benefits of the TCUV program, Sairoglou said the choice between late-model used or certified becomes easier, and the extra money needed to purchase a CPO unit becomes "justifiable."
"The future opportunities come with better customer retention," he said. "TCUV is an excellent gateway for customer retention. It also makes it easier to up-sell the customer to any extended warranty, accessories, winter tires, winter storage."
And customer retention becomes even more important when trying to source CPO vehicles, especially in the case of Don Valley North Toyota. For this dealership, the best way of sourcing vehicles "is simply through the front door," Sairoglou explained.
"We have a huge clientele, and we source our vehicles through our own data base. We do promotions for our lease customers (swap-a-lease, auto alert, customer appreciation events, focus on appraisals)," he said.
Obviously, Don Valley North Toyota is at the top of the CPO game. But there's one thing Sairoglou says automakers could work on to make it easier for Canada franchised dealers to sell more CPO units: consumer education. Although consumers are catching on, CPO is still a new term to some.
"I believe the industry needs to improve on the education to our customers regarding CPO vehicles," he concluded.