AR Canada opens nominations for Remarketing's Under 40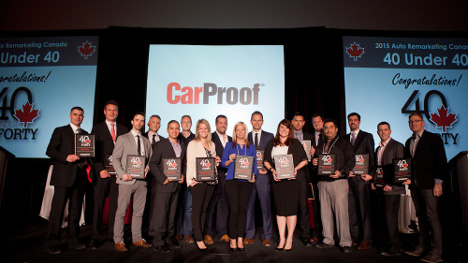 CARY, N.C. -
You know those young people that don't just have great ideas — they act on them? Or how about those up-and-coming industry stars that aren't afraid of disruption, but rather, invite it? And everyone knows at least one entrepreneur that doesn't just dream up a solution to a problem, they bring the solution to market, and find the right companies to back it.
If that brings anyone to mind, then make sure to nominate the auto industry star you know for the AR Canada Remarketing's Under 40 awards.
The nomination period for the awards program opens today and will close Feb. 26.
To nominate a deserving colleague who hasn't hit the big 4-0 yet, simply fill out Remarketing's Under 40 nomination form.
From exceptional young dealers and impressive entrepreneurs, to founders of digital marketing start-ups and second-generation auction general managers, the Canadian auto industry is full of young men and women who deserve recognition.
All nominees will be recognized during a ceremony at the upcoming Auto Remarketing Canada Conference, in Toronto at the Westin Harbour Castle, scheduled for April 4-5.
In 2015, Auto Remarketing Canada honored the first round of Remarketing's Under 40.
The group of 40 industry stars included auction managers, dealer principals, automotive digital marketing experts, third-party listing providers, bankers, lenders and more. Check out the inaugural class of Remarketing's Under 40.
What do all these professionals have in common? They make the "remarketing world" go round.
Without all these players — and more — the automotive remarketing industry wouldn't have turned into the massive, successful market it is today.
And as the Canadian automotive industry continues to grow at a rapid rate, more and more young leaders are rising up within the remarketing ranks.
Help us honor another group of deserving auto industry players by nominating a colleague or co-worker for the 2016 class of Remarkeitng's Under 40.
If you have any questions, feel free to reach out to Auto Remarketing Canada editor Sarah Rubenoff at srubenoff@autoremarketing.com or (919) 674-6020 at ext. 140.