AR Canada's 2016 class of Remarketing's Under 40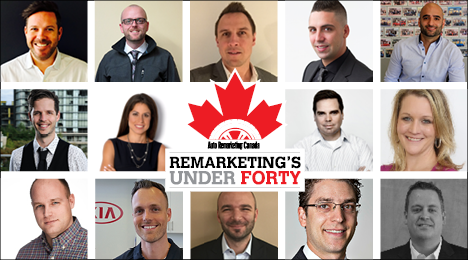 TORONTO -
We gave a call for nominations for Remarketing's Under 40, and were impressed by the number of submissions that came through. Our readers were intent to point out the best and brightest in the industry, and we thank you for your support and participation in honoring the following remarketing leaders.
The following group of 21 industry stars includes digital marketers, auction managers, dealers, sales professionals and more. Without all these players, the automotive remarketing industry wouldn't have turned into the massive, successful market it is today.

Jamie Barbour
33
Director, Operations & Human Resources, Jim Peplinski
Leasing Inc.


Read more

Craig Clowes
28
Founder & CEO,
Canada Car
Loans Inc.


Read more

Cody Green
30
Founder and
Co-CEO,
Canada Drives


Read more

Shane Hambly
38
Vice President,
eDealer.ca/
Carmigo.com


Read more

Matt Lawson
35
Director of Sales, National Dealer Groups,
TRADER Corp.


Read more

Mathieu Leclair
33
Dealer Principle, Chomedey Hyundai, and Founder, Tradehelper.ca


Read more

Serge Ledeaev
37
Dealer Principle,
Apollo Motors
Pre-Owned


Read more

Mark Lensink
33
Dealer Principal,
Kia of Hamilton


Read more

Sean Liptay
38
Co-Founder/CEO, Selectbidder


Read more

Elizabeth Maishlish
38
In-House Legal Counsel, Alberta Motor Vehicle Industry Council (AMVIC)


Read more

Sean MacKenzie
34
Operations Manager, ADESA Vancouver


Read more

Shannon Milo
35
General Manager,
VOS Motors


Read more

James Murphy
34
Acting General
Manager,
ADESA Halifax
Read more

Katie Naughton
35
President,
401 Dixie Kia


Read more

Jordan Rees
32
Chief Executive
Officer, Auto
Careers Group


Read more

Brian Sencich, CSP
30
Senior Sales
Manager, Ontario
Dealer Groups,
TRADER Corp.


Read more

Christina
St-Germain
General Manager, Manheim Montreal


Read more

Jaime Tekela
30
Director,
Pre-Owned Operations, Pfaff Automotive Partners


Read more

Ryan Thompson
34
Head of Sales,
Kijiji Autos


Read more

Nicholas Williams
31
Co-Founder & Managing Partner, Convertus


Read more

Payam Zareian
31
Owner,
Tip Top Auto


Read more