Auto Remarketing Canada to launch Women & Automotive: Profiles in Leadership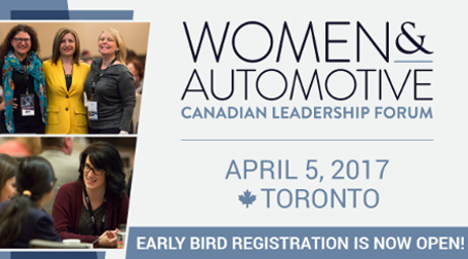 CARY, N.C. -
As part of the Special Conference Edition coverage in our March/April issue, Auto Remarketing Canada is launching a new feature called Women & Automotive: Profiles in Leadership.
In conjunction with the Women & Automotive: Canadian Leadership Forum, we will be compiling a handful of profile stories about women in the Canadian auto industry who exemplify the best in leadership.
Know someone who fits that description? If so, we want your input.
If you have a suggestion for an auto industry leader(s) for us to profile, please email joverby@cherokeemediagroup.com by Feb. 3 with the following:
Her name, position and company.
Her email
Her top leadership qualities.
Please note that this is not limited to the used-car business.
These folks can be from any area of the Canadian automotive industry at large: retail, wholesale, OEM, dealers, finance, aftermarket, technology, vendors and so on.