Automakers Take Note of Pfaff Automotive's 50th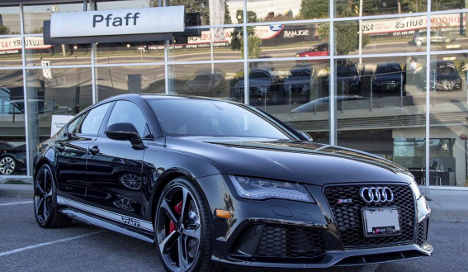 TORONTO -
Dealer group Pfaff Automotive is celebrating a significant milestone this year, and one that is being recognized by Porsche and Audi, as well.
To celebrate Pfaff Automotive 's 50th anniversary, Porsche has created five limited edition 911 models in Pfaff's honor.
The high-end cars are all-white and feature a red stripe over the car and through the steering wheel to signify the blood line of the vehicle.
Audi is also creating two specialized 50th edition R8 models with customized interior features including an illuminated 50th anniversary inlay.
The Porsche vehicles have arrived, while the Audi models will arrive late October, company officials said.
The dealer group was recently featured in Auto Remarketing Canada's Leading Dealer Group's issue.
The dealer group was also honored at the 2014 Auto Remarketing Canada conference. Andrew Lennox — general manager of Pfaff Volkswagen in Newmarket, Ontario — was recognized as the 2014 Auto Remarketing Canada Dealer of the Year.
The dealer group was founded in 1964 by Hans Pfaff, and started out as a small, family-run dealership in Newmarket, Ontario, and now is one of the top luxury dealer groups in the country.
"Celebrating 50 years is a significant milestone for us, one that I know my father, Hans would be extremely proud of," said Christopher Pfaff, president and chief executive officer of Pfaff Automotive Partners. "My vision for the next 50 years is continual growth while sustaining the same culture that got us to where we are today."
Back in the 60's, Pfaff consisted of a single VW dealership under the name H.J. Pfaff Motors with just 13 employees.
But it grew quickly, acquiring Porsche in 1966 and an Audi franchise in 1971.
Christopher Pfaff runs the company today, along with Michael Talmage, executive vice president; and Mark Fisher, chief operating officer.
Since Christopher assumed control of the company in 1986, Pfaff has expanded from the single dealership in Newmarket to thirteen stores across Canada including: Volkswagen, Porsche, Audi, Toyota, McLaren, Pagani, BMW, Pfaff Autoworks, Pfaff Leasing and Pfaff Tuning.
Today, Pfaff Automotive Partners employs more than 450 employees.
"Everyone at Pfaff has an innate enthusiasm for the brands we sell, if we don't believe in it, we won't sell it, and this is what has led us to 50 years of success," says Christopher Pfaff.
Pfaff Automotive Partners has earned numerous awards over the years including one of Canada's Best Managed Companies for four consecutive years and Automotive News Best Dealerships to Work For in 2013 and 2014.