Automotive 'a world of its own,' say Zanchin dealer principals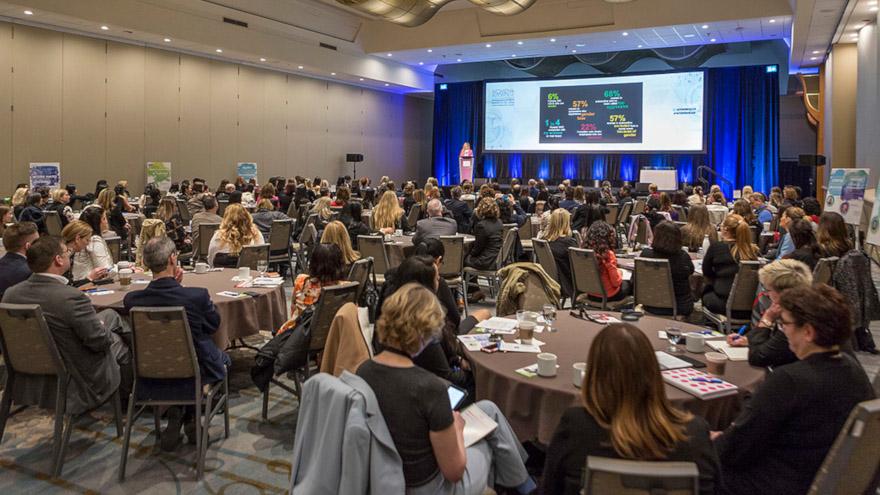 WOODBRIDGE, Ontario -
According to Laura Zanchin of Zanchin Automotive — Toronto's largest auto group — the automotive field is a "world of its own."
And if anyone knows what makes the auto industry tick, it's the Zanchin sisters. At very early ages Laura Zanchin and sister Andria Zanchin, both 2019 Women & Automotive Profiles in Leadership honorees, worked in the family business and dealerships in positions ranging from reception to controller.
"It's these roles and challenges that have taught us to become successful executive vice presidents within our own company and have taught us everything we know about the car industry today," said Laura Zanchin, who serves as both principal and executive vice president within the family business, along with sister Andria Zanchin.
Andria Zanchin told Auto Remarketing Canada she finished university and always knew she would be working in the family business.
"It was the only place I had ever worked or wanted to work from a young age," said Andria Zanchin. "What I like most about the automotive business is that no two days are often alike. Everyday there are new challenges, and we have to be ready for them."
Laura Zanchin explained that serving as the general manager at the smallest dealership in the dealer group (Airport Mazda) has been her favorite role in the business so far. She cites learning from a hands-on perspective from everyone in the store to contributing to her success in the role.
"It's been extremely rewarding for me to make the necessary changes in both culture and business and then see the exceptional results. It's been an absolute pleasure," she added.
Currently, both sisters also hold the title of executive vice president. Andria Zanchin explained that the strength she thinks she contributes to the role is "bringing process and many best practices to the group as a whole.
"I action many of the group initiatives and keep everyone aligned," she added. The Zanchin marketing department and its Guest Centre staff reports to Andria Zanchin, as well, and she also helps oversee the dealer group's Mazda dealerships.
It's clear that both the sisters bring a different perspective to the business. And Andria Zanchin pointed out that while the pair do work alongside one another, "sometimes to be more efficient we divide and conquer what needs to get accomplished.
"We are both very strong in different areas, and we like to collaborate and share the successes that we may have in order to share best practices and processes on what is driving results," she said.
When asked what makes working and running a family business different, Andria Zanchin pointed to the perception of roles and responsibilities.
"We are often providing input and stepping in where ever there is a need," she said.
In other words, if something needs to be accomplished you just do it — "no matter what the task or who's role it is," she added.
"You are all working very strongly towards the same goal, no matter who's bucket of responsibility it falls," Andria Zanchin said.
The Zanchins are among several talented leaders sharing their industry perspectives in the January/February print and digital editions of the Auto Remarketing Canada magazine as part of our Women & Automotive Profiles in Leadership.
Many of those leaders and more will continue the conversation at the upcoming Women & Automotive Canadian Leadership Forum. The forum is scheduled to follow the Auto Remarketing Canada Conference on March 21 at the Westin Harbour Castle in Toronto.
'A challenge and tremendous opportunity'
Laura Zanchin explained it's like she was "born into the automotive world."
But that's unusual for most women.
Laura Zanchin said that not only is the industry "male-dominated," but it's also a world of "passionate, dynamic and testosterone-driven people."
But, she said, it can still be a great career for women who are willing to work at building strong relationships with both their clients, colleagues and employees.
And she didn't miss a beat when asked whether there should be a larger representation of women in auto.
"Of course there should be more women in automotive," Laura Zanchin said.
But how?
"… By being honest with each other and talking about our wins and especially talking about what we learned by our misses," she said.
Trial and error can often be a great teacher
"It's also important to find what your own strength is and build on that," Laura Zanchin said. "Maybe you are an excellent communicator, maybe you're great with numbers, maybe you enjoy working on cars; whatever it is, build on it until you achieve all your goals."
Sometimes all it takes to attract the next generation of leaders in to a business is simple conversations.
"It's amazing what I learn when I start talking to someone that has just started within one of stores," said Laura Zanchin. "I get to know their backgrounds, their family, their goals and their priorities. Their journey becomes part of my journey. I measure my success by their success, and believe me I'm here to make everyone try and succeed."
And being a woman in an auto dealership doesn't always have to be a challenge. Laura Zanchin explained it can be a tremendous opportunity, as well.
"Your worth in this business is achieved through your hard work and by learning everything that you can," she said. "Once you gain respect, you can bring your own perspective and energy to the business as a woman. That can truly lead to success for yourself as well as the dealership."
The key, she says, for women in auto, is being true to themselves in this industry.
"In years to come, gender will be less of a factor as long as we remain strong in character and realize that we do deserve to be here," said Laura Zanchin. "Most of the battle will be in realizing that we are just as competent as anyone else."
According to Laura Zanchin, perhaps the biggest challenge for many women "is realizing that we actually can make a difference and be successful in the automotive world.
"We have to remain positive, and we have to learn everything we can. That's how we become empowered and how we all succeed," she added.
Leadership: 'It's not all about you'
Man or woman, leadership — and the characteristics most important in our leaders — is changing. And according to Laura Zanchin, in today's world, "you have to be smart enough to know that business is changing, and you have to be even smarter to realize that the end result will always stay the same."
That is, if you work to satisfy your customers by building great experience and strong relationships — and do this by having amazing employees that feel the same way you do — said Laura Zanchin.
Her leadership philosophy is fairly simple: "If your people are happy and engaged, it shows within the store, and it also reflects through to your customers and the overall success of the dealership. It's a positive ripple effect where everyone wins."
Ultimately, the automotive industry is not for the faint of heart. To be a leader in this industry, you do have to be tough-skinned, she says, but that by no means discounts women from the industry.
"Setbacks come with the territory as long as you learn from them, and everybody has their share of setbacks," Laura Zanchin said.
She concluded: "The most important trait in a leader is to understand that it's not all about 'you.'"