AutoTrader Canada's new Pivot tool uses augmented reality to bring 3D visualization to online car shopping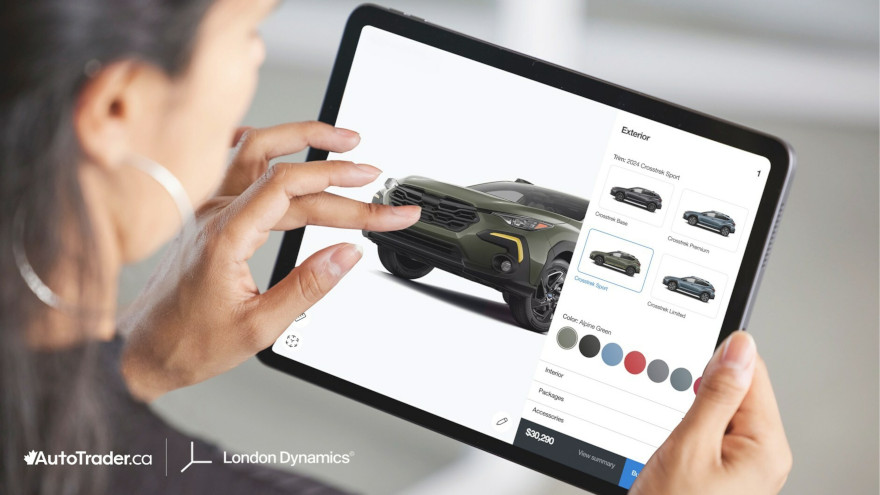 AutoTrader.ca is partnering with London Dynamics for a new online car shopping "experience" using a three-dimensional, 360-degree vehicle viewing process,  allowing shoppers to explore vehicles from every angle.
The new AutoTrader Pivot tool is described as a "game-changing immersive and interactive online car shopping experience."
For OEMs and retailers, the companies said Pivot provides a ramped-up level of consumer engagement opportunities and interaction.
"AutoTrader Pivot directly aligns with our mission of helping Canadians buy and sell cars, quickly and with confidence, by delivering the automotive retailer showroom to any device, through an immersive and interactive car shopping experience," says Benoit Laforce, general manager of AutoTrader Media. "We are thrilled to bring London Dynamics' leading technology to the car buying experience, and we're excited for what this means for our industry partners."
London Dynamics focuses on augmented reality technology and contributes interactive 3D visualizations of vehicles for both OEMs and retailers to the Pivot platform.
These multidimensional models give online shoppers a way to "get inside" the vehicle without visiting the dealership, thanks to a complete 3D exterior view and an interior showcase.
"We are delighted to partner with AutoTrader Canada, the leading national online automotive marketplace, to reshape the future of automotive retail, making online car shopping more immersive, intuitive, and transparent," Michael Valdsgaard, CEO and founder of London Dynamics, said in a press release. "Our collaboration with AutoTrader Canada is a strategic synergy aimed at supercharging the online car buying journey, through a focus on integrating 3D and AR visualization into Canadian online platforms to allow potential buyers to have a detailed look at vehicles, just like in a physical dealership showroom."
This move is one of many recent advancements in the role of 3D visualization and AR technology in the car buying journey.
Finding the right car before dealer visit
Laforce told Auto Remarketing Canada in an interview that he was first exposed to the technology behind the Pivot tool when trading ideas and sharing initiatives with peers in the U.K.
He then watched a demo using the product and was quite impressed.
"My head started spinning," Laforce said.
He said he immediately started thinking about use cases for his own business.
"We started doing a lot of research," said Laforce. "We know the consumer is always looking for help for making decisions, since the market is saturated and very complex.
"We know and discovered further that the customer wants to get more of a feel for the vehicle online," he said. "And with augmented reality, we immediately saw the need to bring that into the key market."
The team at AutoTrader reviewed OEM sites and saw a need for an online tool that could really "put the customer in the vehicle" from the comfort of their home.
"That's the problem we're trying to solve … helping the consumer really to find the right car before going to the dealership," Laforce said.
The No. 1 use case for his company, Laforce said, is in the division he runs called AutoTrader Media, which helps brands to take advantage of the brand's trust in the market to position themselves.
"Very often, we're helping with new model launches. We're helping educate the consumer about certain aspects of a vehicle," he said.
And when you think about EVs, "we saw that great support needs to be able to help brands to communicate to their consumer better, because Pivot isn't only about AR or anything else, it's  about really selling the vehicle."
AutoTrader also saw a great opportunity for OEMs to integrate the Pivot tool into their websites. It's also fitted to the omnichannel approach, "because it can integrate super easily on a multiplatform (basis), so you can have consistency from the OEM website to the dealer website to different marketing initiatives," Laforce said.
Dealers can also use the tool within their showroom, helping consumers to "build" their perfect vehicle virtually, using a QR code to share with their significant other or family member. OEMs and different brands are looking to get ahead where the consumer is going to be engaging with their platform.
"From what we've been seeing is that when consumers start engaging with Pivot, they spend more time on the website. They're going to be looking at more parts of the vehicle because it's simplified," said Laforce.
Shoppers don't need to get to another screen to add accessories and review the vehicle. Laforce said tests are also showing the tool driving more page views and clicks, as well.
Laforce sees one of the greatest benefits of the tool to be how quickly a vehicle in Pivot can "be created."
"It's simple, easy to modify and speed-to-market is key; we can get car images, and we can recreate the vehicle with only a few images, and do it fast, and the smoothness of the configuration is also crucial," Laforce said.