autoTRADER.ca marketplace now includes digital retailing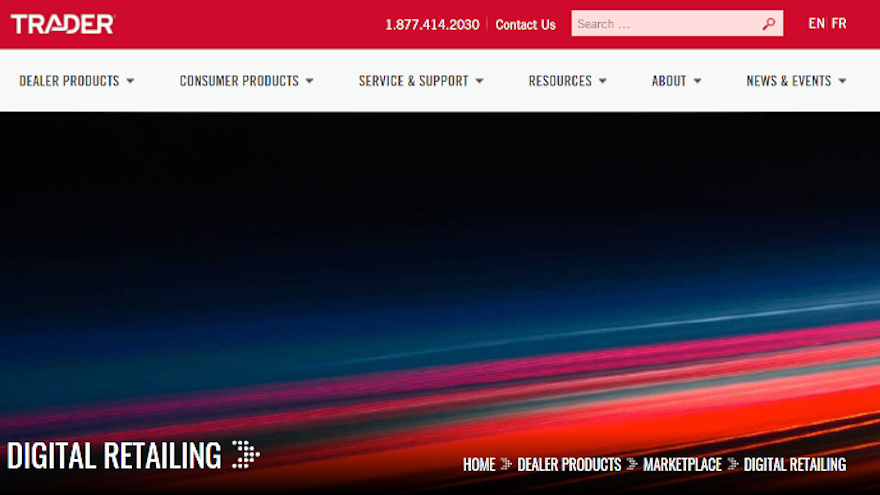 TORONTO -
Stating that the new service is the first of its kind to offer online transaction capabilities on a major Canadian automotive marketplace, TRADER Corp. has launched digital retailing on autoTRADER.ca.
The new digital retailing service will work in conjunction with the Motoinsight MotoCommerce platform, and dealers using the service can provide customers with the ability to build and complete transactions online within marketplace listings.
Also, for the first time, Canadians will be able to purchase a car on autoTRADER.ca.
Some consumers still seek an in-person dealership experience. But 41% of respondents to a recent survey of autoTRADER.ca marketplace users are interested in purchasing a vehicle online.
According to TRADER Corp., that indicates a desire to conduct more of the car buying process digitally.
Sixty-one percent of users surveyed would be interested in being able to purchase vehicle accessories online. The online automotive marketplace ranked the highest among resources used by consumers for research. Digital Retailing on autoTRADER.ca "synergizes" the car shopper experience, which TRADER says could "usher in a new wave for the automotive industry."
One hundred fifty Canadian dealers are currently utilizing the autoTRADER.ca digital retail integration features in the first phase of the launch. Those include:
— A "'Build My Deal' button that allows customers to enter the MotoCommerce platform directly from the dealer's vehicle details page. At that page, customers can configure pricing, review accessories and protection plans, complete trade-in appraisals, apply for financing, and deposit and finalize agreements.
— A Buy Online badge on search results page listings helps make buyers aware that the dealership offers an online vehicle purchasing option.
— A Buy Online identifying badge and a Buy This Vehicle widget on vehicle details pages adds additional awareness for each retailer's digital offering.
Dealership sales representatives and product specialists at every stage of the purchase process can meet customers to provide a transparent and personalized experience that is similar to the in-dealership experience. If a customer needs to pause a transaction, he can resume exactly where he left off across multiple channels, and those include the autoTRADER.ca marketplace, the dealership's website, or in the showroom.
In the launch's second phase, Digital Retailing on autoTRADER.ca will be made available to dealer partners nationwide. For information, or to join the waitlist to activate digital retailing for your dealership when it becomes available, visit go.trader.ca/DigitalRetail.
TRADER says the launch of the digital retail functionality on the autoTRADER.ca marketplace shows its focus on digital transformation. The organization released the Remote Selling Suite in early April. That toolkit includes features for dealers to conduct business remotely and engage Canadians searching for cars on autoTRADER.ca during the COVID-19 pandemic.
"In response to recent circumstances that have accelerated interest in completing more of the car buying journey online, TRADER has made it a top priority to focus on innovating and adapting our offering to help dealers respond quickly to evolving consumer needs," TRADER chief product officer Jill Hadfield said in a news release.
Hadfield continued, "This first of its kind advancement in automotive digital retailing on a major Canadian automotive marketplace represents an exciting step forward in the future of car buying, and we are proud to be at the forefront of this evolution in Canada."
Digital Retailing on autoTRADER.ca is the latest addition to a portfolio of digital offerings that TRADER says show its commitment to guiding dealers and consumers through this "new era of car shopping."