Award-winning Autorama owner encourages dealers to positively impact communities & adapt to 'tomorrow's buyers'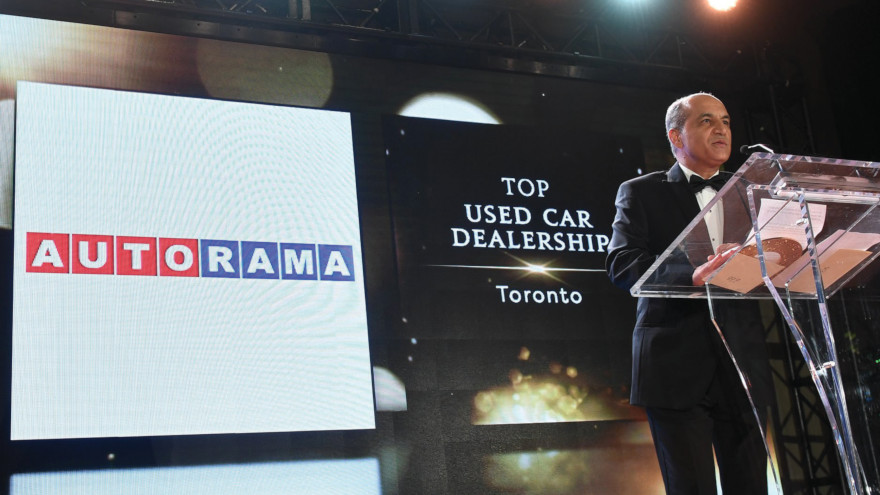 TORONTO -
Autorama, a leading used-car dealership in Toronto, is led by owner Nasser Rad, who came to Toronto over two decades ago as a refugee from Iran. And since launching Autorama in 2000, the dealer has won awards not only for the dealership itself, but also because of his unique story and commitment to community.
Rad studied in the pharmacy school at the University of Tehran. But after immigrating to Canada and making an effort to continue his studies in science at the University of Toronto, he eventually left school to learn a new language and find a job in a new country.
Having always been passionate about cars, he changed gears and studies and graduated from Automotive Auto Contact with a certificate in auto sales and from Wye Management's Automotive Career Center and Georgian's Automotive Business School of Canada with a certificate in used-car sales and management.
After working at a few auto dealerships, Rad explained he thought the used-car industry needed to change, so he started his new adventure with a "completely new and different vision."
And part of that vision is giving back to the community. One way Rad makes sure his store makes a positive impact is through its "Care to Share – Free Cars for People in Need" program.
Rad values the importance of the community and recognizes the support provided to him in order for Autorama to be where it is today. Consequently, in 2015, in efforts to reciprocate the helping hand that was extended to him from the people of Toronto, he and his team decided to launch the program that focuses on individuals or families that are in financial strain and are in dire need of a vehicle.
Going about daily routines without means of transportation can be extremely difficult, and the hardship is only made worse when the individual has a family to support, a sickness to control or is unemployed.
"We feel it is important to do our part for the community where we work, live and make employees feel proud to take part. We make a difference one car at a time, and we continue to do so!" said Rad.
The program, among other community efforts, led to him being recognized by the Top 25 Canadian Immigrant Awards in 2016. The awards program recognizes inspirational immigrants who have made a positive impact on their communities since arriving in Canada, honoring community advocates, volunteers, successful entrepreneurs and cultural icons.
He said that being a successful entrepreneur was not the only goal that he wanted to achieve in his life, and believes that what you contribute can make a positive impact, motivate and inspire others, and make a difference in lives.
Rad was also recognized as an Urban Hero of the Year in 2017 — a program that celebrates community heroes of all ages for their inspiring work, leadership and good deeds in Toronto. The program was launched as part of Canada's 150th celebrations as a way to honor the people that make a difference in the lives of others and exemplify "what it means to be Canadian."
But Rad hasn't just been recognized for his personal and philanthropic achievements — Autorama has been recognized as the top used-car dealership in Toronto for six consecutive years by the Top Choice Awards. The Top Choice Awards, an organization that recognizes top businesses across North America and Europe, collects and reviews the opinions of thousands of customers annually and selects and recognizes businesses based on customer satisfactions and experience.
Rad explained that is took almost 20 years since launching the business in 2000 to "build a brand" in the used-car industry — years that took a lot of "hard work, consistency and continuous improvement."
When Rad first opened the dealership doors, he did so on a variety of "pillars," he explained, those being transparency, exceptional customer service, top quality vehicles, competitive prices and most importantly, passion.
His goal was to bring a newcar buying experience to the used-car market — and make a difference in the used-car industry, perhaps cutting down on stigma surrounding used-car dealers and salespeople.
Fast forward to today, and Autorama went from a small operation to a used-car superstore boasting 50,000 square feet and an indoor showroom that showcases over 250 pre-owned vehicles.
A new 'target customer'
Catering to and understanding the needs of the Autorama customer base are a few of Rad and his employees' key focuses. But today, the dealer explained he is dealing with a new target consumer: millennials.
Rad described the generation as one who "wants everything on their own time and are all about the experience."
With this new target group, the store has worked to craft a successful marketing strategy around the ways this group likes to shop.
For example, the store has put a lot of effort and time into their online presence.
"We want to be in front of our customers at the right place and right time. This includes being on multiple advertising platforms and social media, which requires a large capital and is extremely time consuming," said Rad.
The store uses chat tools to connect with customer "at the time they want to be in touch with us, not when the store is open."
Further, the omnichannel or seamless experience from Web to store has been top of mind. As such, Autorama is working on implementing new tech to allow customers to come into the store to finish the car-buying journey they started online.
Autorama is also a "one-price" store, eliminating the negotiation step present in many used-car sales from the shopping process. The millennial generation is not known for its propensity for haggling, but rather a desire for convenience and efficiency.
"Customers want transparency, and we use this as an opportunity for our dealership and are really working hard on it," said Rad.
On top of a modern, more transparent pricing strategy, Rad works to continuously improve and streamline the store's processes" so that the entire car shopping process from the moment the customer finds us online till when they drive it away takes the least amount of time while leaving them with a memorable shopping experience."
The store also makes sure to take into account its larger market, and how urban markets differ from more rural areas. You have to consider the commute distance, weather conditions, parking, road condition and other differences — and then you market the vehicles that "matches the lifestyle of our urban drivers."
As for what types of vehicles these might be, Rad pointed out fuel-efficient sedans and compact SUVs are selling best in the Toronto market.
Interestingly, he also touched on the growing market of ride-sharing and car-sharing programs, also more prevalent in urban areas.
"The drivers who are members of these platforms are looking for fuel efficient and newer vehicles," Rad said.
Car-sharing and ride-sharing are just some of the ways the auto industry is rapidly shifting.
Rad pointed out the auto retail experience is also changing, and dealerships need to prepare themselves for customers with "a different mindset and expectations," who are familiar with and desire the ability to buy large ticket items, like a vehicle, online.
"To earn their business and gain their attention, we need to have new tools and technologies. We need to adapt the change and continue to thrive," Rad said. "This new challenge is changing how the dealerships are interacting with their customers and affecting the way we perform our daily business."
This might not sound like the easiest process, but Rad said it's simply a matter of figuring out how to use this challenge as an opportunity, and to modify "old processes to adapt to tomorrow's buyers."