Awards on tap at AR Canada, Women & Automotive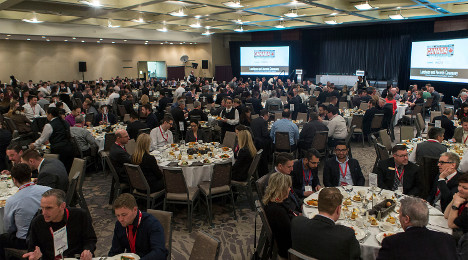 TORONTO -
It's the chance to recognize some of the many folks in the industry who are making an impact and continuing to emerge as leaders.
Here is a rundown of the awards and honorees that will be spotlighted during the Auto Remarketing Canada Conference luncheon and awards ceremony, which is at 11:30 a.m. on April 4.
— Executive of the Year, Presented by Canadian Black Book: Alan Bird, President and Chief Executive Leader, SCI Marketview
"Alan is the perfect representation of the type of leader and innovator that our industry needs. His ongoing passion for team building as a step toward growing successful businesses continues today to help make positive change in the automotive space," said Brad Rome, president of Canadian Black Book.
— CPO Dealer of Year Presented by NCM Associates: Performance BMW
— Remarketing's Under 40 (in alphabetical order by first name):
Alex Kinney, Volvo Cars New Brunswick/Fredericton Mitsubishi
Brian Long, autoTRADER.ca
Claudio De Angelis, Foss National Leasing/LeasePlan Canada
Danny Lynn, AutoVIN
Doug MacIver, Ride Time
Esmond Park, ADESA Canada
Gerry Johnson, Manheim Canada
Heather Coy-Robinson, CARPROOF
Jeff Gallon, Dealertrack Canada
Joey Cappello, Autonum Capital Inc.
Karl Tremblay, TradeHelper
Karolina Strazewicz, Redline Auto Sales
Martin Douglas, TradeRev
Nevade Coombs, ADESA Canada
Nick George, Automotive Resources International
Nick Basile, LGM Financial Services
Nimalan Bala, Facebook
Patrick Huibers, Honda Canada Finance
Rosita Chakardan, Dilawrti Group of Cos./The Dilawri Foundation
Shim Mannan, White Clarke Group
Stephanie Mathon, Manheim Montreal
Stephanie Turner, Cox Automotive
Teresa Yeager, CARPROOF
— Independent Dealer of the Year sponsored by DealerSocket: HGregoire
Meanwhile, the luncheon and awards ceremony at the Women & Automotive: Canadian Leadership Forum will take place at 11:45 a.m. on April 5.
During that session, we will recognize the 15 women highlighted in our Women & Automotive: Profiles in Leadership features.
Those honorees (in alphabetical order by first name) are:
Alba Henderson, Bickley Ford
Jill Hadfield, TRADER/autoTRADER.ca
Julie Oliveira, Riverside Ford Sales
Karey Davidson, RSR Global
Kim Miller, ADESA Toronto
Leanne Kripp, Kijiji Autos
Liliane Dubois, Equifax Canada
Lisa Church, Honda Canada Finance
Logan Keirstead, Accu-Trade Canada
Lori Murtagh, SCI
Maria Soklis, Cox Automotive Canada
Michelle Mullins, Impact Auto Auctions
Mylène Pagé, CDK Global
Ruth McBride, Scotiabank
Susan Gubasta, Mississauga Toyota