Birchwood Auto Group finds success in growing out separate subprime business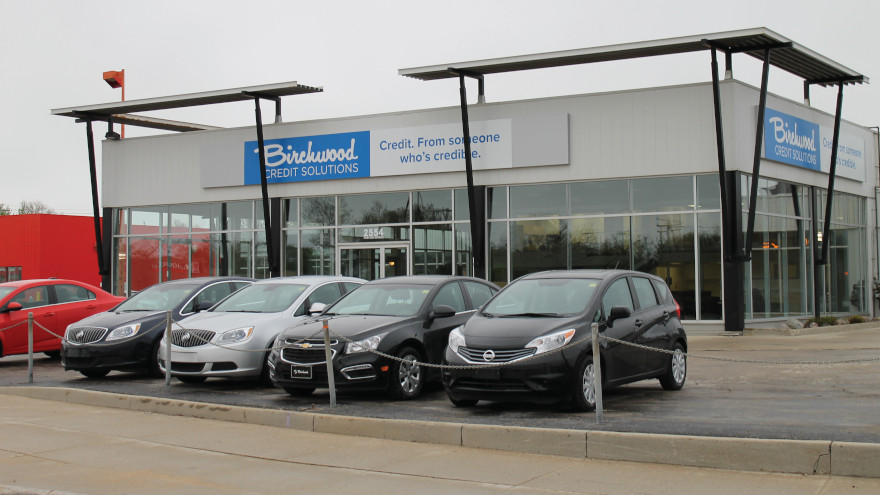 WINNIPEG, Manitoba -
The Birchwood Automotive Group, considered the largest automotive network in Winnipeg, Manitoba, sells everything from Jaguar and BMW to Kia and Hyundai and everything in between at their franchised locations.
But in recent years, the dealer group with 23 franchised locations has created yet another revenue stream via the subprime market.
Brian Bell, director of corporate development at Birchwood Automotive Group, told Auto Remarketing Canada, "We saw a need and that we weren't capitalizing on leads from declined credit applications in the past, and that really resulted in lost business for us that was getting consumed elsewhere."
Bell said the Birchwood franchised dealerships "never excelled at subprime," so the leadership team took a very hard look at the portfolio and processes to discover what might be wrong.
As a result of that research, the dealer group gathered some of its most experienced sales and finance managers to work outside of the dealership as a unit, creating a separate subprime operation. And Birchwood Credit Solutions was born.
The business has grown to three locations and just under 50 employees, and now Birchwood does zero subprime business through its franchised stores. Birchwood Credit Solutions is completely separate from the franchised dealerships but touts the Birchwood name, which carries weight in Winnipeg and surrounding areas.
"And through that process of separating that business, we took a much more credit counseling approach. We want our customers to improve their credit standing, and this has led to an extremely loyal customer base that continues to grow," said Bell, calling the subprime pool a "high-value customer base" in a mature marketplace.
Bell also pointed out there are no traditional salespeople at the subprime businesses.
Instead, Scot Greer, director of used-vehicle services at Birchwood Automotive Group, explained, "It's a front-to-back sale, so our salesperson is also the financial services manager … it's all in one. So, the customers are only talking to one person the entire process."
As for what inventory Birchwood Credit Solutions stores keep on the lots, Bell shared they try to focus on products with existing warranties still on them, because it protects the loan.
"Basically, if the car performs, the loan performs," said Bell. "If we can reduce the chances of our customers having to put out of pocket for a repair to the vehicles, the more secure that loan will be."
Those vehicles might come with a higher price tag, but Bell said "the more data and the more process-driven your communication is, the more comfort you can have with that higher value."
The subprime business is quickly becoming high value for the Birchwood companies, selling 1,183 vehicles last year, many of which were cars and small SUVs. Korean brands, such as Hyundai and Kia, are popular on Birchwood Credit Solutions, lots.
Another unique element to this business is that the majority of the subprime customers at Birchwood Credit Solutions are financed by Birchwood, on their own paper.
Bell pointed out a big part of why they have been able to scale up and approve so many subprime deals largely comes down to two things: software and processes.
All-in-one subprime software
When Birchwood Credit Solutions was in formation, the leadership team explored a variety of software tools, and Bell explained that they didn't find any systems that helped manage subprime leads and communication in an efficient way.
Greer noted all the software they found was segmented. You had some that managed leads and some that integrated with banks and lenders, for example. But nothing "worked as a full enterprise suite."
Birchwood touts a very robust app development team, Greer explained, "so we looked at the needs and then decided to develop and in-house product."
And DescisionPro 360 was born — a subprime and non-prime lending platform for auto dealers.
Bell said the software is effectively a lead management system for finance managers in subprime and is designed to make their operations paperless, from start to finish, "which is somewhat unique in the subprime space, when you normally have files stacked up," he said.
"We can take a lead, handle the communication through the system from first contact all the way through selecting an inventory based on profitability and fit," said Bell. "It does all the calculations."
Greer said it helps make the decisions process easier and more thorough, which in turn "makes it much easier to help clientele who haven't had a lot of help in the past, and who've usually been subject to predatory lending activity.
"This division really allows us to help people report back to credit bureaus and help them become a near-prime customer, all the way back up to prime lending in the future," Greer said, noting the businesses' default rates are far less than the industry average.
And Bell said as the portfolio begins to mature, it's becoming increasingly common to have Birchwood Credit Solutions customers become Birchwood Automotive Group franchised customers down the road.
The new software and processes within the Birchwood Credit Solutions division significantly cut down on the time required to process subprime customer applications for the dealer group — and to follow up in the future, the Birchwood leaders explained.
"A common issue with subprime is you get a customer whose file is declined. The file goes on the desk. They might be just two months away from being on the job long enough, otherwise they might have been approved, but they never get followed up with," Bell said.
The software system automates the follow-up and basically the movement of the application from first contact to approval. And you can schedule follow-ups through the platform. Bell pointed out tools like automated follow-ups can greatly improve closing ratios at subprime dealerships.
If the Birchwood Credit Solutions business wasn't enough as another source of revenue for the Birchwood name, they've created yet another with the creating and packaging of DecisionPro 360, which they are now selling to other subprime dealers.
"It's a little bit niche, so it's not like we are looking for thousands of customers, not that we wouldn't want that," Bell said. "it's just that this is for dealer groups that are trying to gain more control and transparency into their subprime process. For them, it's exactly what they need."
As far as why the subprime market is becoming increasingly important for dealers to take note of — even franchised — Bell said: "In general, dealer groups are recognizing that the market isn't growing that much, and you have be more effective with the customers you have."
Greer echoed that sentiment, noting, the industry often looks at subprime as "leftover business," but that's simply not the case. And a successful subprime business can serve to grow your customer base and increase customer satisfaction.
Take this for example. The Birchwood Automotive Group franchised stores, as well as their subprime business division, both use the internal customer satisfaction tool, Net Promoter Score (NPS). The Birchwood Credit Solution division continues to lead the entire organization in that scoring system, Greer pointed out.
"It's because the declines (customers whose credit has been declined) that are normally left in the corner or treated terribly by predatory lending activity; instead, they actually feel a part of something, and they feel important in the automotive ecosystem," Greer said.