A Buy-Here, Pay-Here Resurgence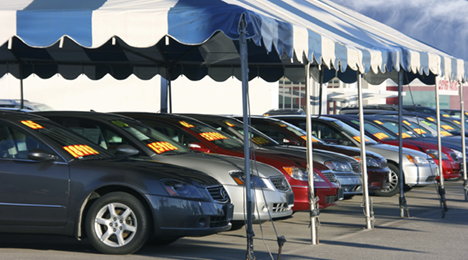 CARY, N.C. -
With what has become a slow economic recovery for Canada as many consumers continue to suffer financial setbacks, the buy-here, pay-here automotive market is experiencing a resurgence of sorts.
Mark Dubois, director and moderator of Buy Here Pay Here Performance Groups at Performance Inc., told Auto Remarketing Canada that this increased interest in BHPH sales is also tied to "dealers discovering the profit potential of BHPH/LHPH (lease-here, pay-here) financing."
Dubois also contends the "future of BHPH/LHPH is bright" in Canada.
But in the light of consumer financial setbacks such as job loss, business failure and foreclosure, many dealers may fear rising loan delinquency rates in a business as volatile as BHPH.
That said, Dubois explained that this market has surged of late because of consumers' "need to rebuild or re-establish their credit score."
"BHPH/LHPH financing is targeted at customer that have encountered these types of setbacks. With the right training and the right staff, dealers can experience loan default rates below the national average, but the actual results depend on how disciplined the BHPH business is in structuring the loans they extend to customers," he explained.
Mike Davis, general manager of Davis GMC Buick in Lethbridge, Alberta, told Auto Remarketing Canada, that "2008 economic times may have contributed to the BHPH market (growth) due to more people who were overextended during those times and are now getting back on their feet."
And part of the recent growth in the BHPH market is also due to more customers exploring the benefits of non-traditional financing.
"Consumers that have traditionally bought vehicles that they were able to pay ($500—$1,000) cash for can now purchase a vehicle that is more valuable, more economical and that will last longer by using non-traditional financing sources," Davis said.
He also explained that the influx of foreign workers entering the work force that have no previous credit history in Canada may look to the BHPH market for their next vehicle purchase, perhaps contributing to future accelerated growth.
"Environmental factors have impacted this as the emphasis towards more economical and reliable vehicles continues," he added.
Finance Obstacles
With the BHPH market growing at a rapid pace in Canada, Dubois explained the biggest obstacle for dealers looking to try their hand in this market is understanding that this type of financing "is not designed to finance the worst possible customers."
In fact, many BHPH/LHPH customers in this type of market are simply trying to re-establish their credit after the recession either cost them their job or home.
Dubois explained that to make these customers more comfortable, "In many cases the staff at a BHPH business are referred to as finance consultants, or loan counselors, to illustrate that there job is to work with customers that have impaired credit history and help customers get financing on a vehicle."
Protecting Your Assets
One of the main concerns of a BHPH/LHPH dealer is always collections. But the question remains: How do you ensure customer loyalty and foster customer service while also protecting your assets as a dealer?
Dubois explained that advances in payment technology, such as automated payment reminders, have made the collection process considerably easier and more cost effective.
"Working with customers that get behind on payments by keeping them in their vehicle and working our alternate payment arrangements that gets their account current again, is a cornerstone to building loyalty with customers as well as repeat and referral business," he explained. "Repossessing a vehicle should be used as a last resort."
And advancements in collections technology have helped many dealers cut down on costs and improve efficiency.
"Many dealers have been able to reduce collection staff because of the efficiencies gained through automatic payment technology. In addition technology such as online payment portals, pre-loaded debit cards, third-party payment sources and electronic banking have made it easier for the customer to make their payments and easier for the dealer to collect the payments," Dubois said.
Inventory: Creating Your Own Source
Used inventory has been tight since the recession, and is not expected to loosen any time soon.
Also, recent events such as Hurricane Sandy in the U.S. have impacted the supply and price of used vehicles across North America.
But new-vehicle sales are ramping up, a trend that could prove helpful to dealers in the BHPH/LHPH market.
"A rebound in new-vehicle sales has resulted in a higher ratio of trade-ins. Many franchise dealers are retaining more of the older vehicles with higher mileage for their BHPH business instead of selling them at auction," Dubois said. "They essentially create their own source of BHPH vehicle inventory by retaining more of those types of vehicles."
But for those concerned with securing affordable units to stock a BHPH lot, Dubois says: "'Affordable inventory' is an oxymoron.
"Since you can't sell from an empty shelf and you can't factory order a used vehicle, the experienced BHPH dealers understand that under the current market conditions you just have to pay more to get the inventory you need," he stresses.
Is the Capital Available?
After the economy tanked in 2008, capital markets pulled loan services and credit conditions tightened, which made it much harder to finance customers with less-than-perfect credit.
"In the past year or so the capital markets have shown interest in providing capital to the BHPH industry again," Dubois said.
He also noted that the important thing for dealers to understand is what they need to provide in order to qualify for capital.
"A lender is going to want to see legitimate financial statements, personal equity and historical business performance as a minimum to open the conversation about extending capital," he explained.
Also, outside finance companies are now more able and willing to buy BHPH/LHPH paper, though "BHPH dealers will tell you they won't sell their notes unless they need to raise capital to grow their business" Dubois said.
"BHPH is a cash intensive business so in the early stages of building your business selling notes to outside finance companies may help get your business off the ground until you get to a point where the business is cash flow positive," he continued.
An Example of BHPH Success
Davis also gave Auto Remarketing Canada insight into how BHPH financing has boosted sales at Davis GMC Buick and how it has helped the dealership's overall portfolio.
Davis explained that the dealership averages eight BHPH sales per month; with a total portfolio of just under 200.
The dealership has been in the BHPH business for three years now, and it accounts for about 10 percent of their used sales and "about half of these would be have been deals that we would not have been able to sell or find any type of financing for," said Davis.
He explained that to source this segment of the dealership's business, it simply uses its regular used inventory, which is a mix of trades and purchases from auction.
Davis explained dealerships can work on BHPH customer retention by focusing on the service department.
"We work hard with our BHPH customers to keep them loyal and retain them in our service department and in sales by working with their finance contract if larger service bill come up, or there needs to be a change as far as the type of vehicle or payment amount," Davis said.
Davis also commented on the future of the BHPH market in Canada, noting that consumers are beginning to take note of the economic value of BHPH finance.
"I see the future of BHPH continuing the trend towards better vehicles that have plenty of life left in them and are reliable and economical as the overall ownership costs of these types of vehicles is far less than older higher mileage vehicles," Davis concluded.