Canada Drives signs Grey Cup sponsorship deal with CFL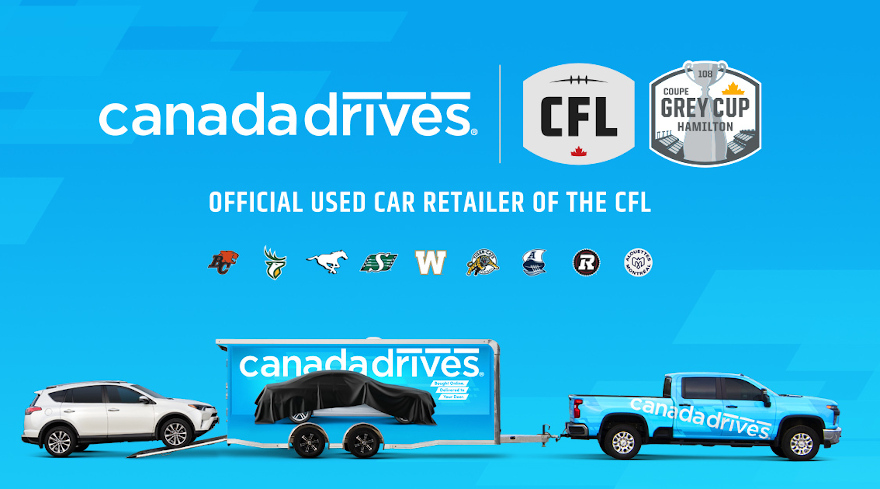 TORONTO and VANCOUVER -
Canada Drives has lined up a deal to be the official Used Car Retailer & Auto Finance partner of the Canadian Football League, according to a release from the CFL.
The partnership is a multi-year deal and will include various Canada Drives media assets throughout the CFL playoffs and Grey Cup championship, the CFL said.
Canada Drives will also be the presenting sponsor of the Grey Cup trophy delivery to Hamilton. Additionally, Canada Drives will be giving a one fan a pair of 2022 CFL season tickets during each playoff game and at the Grey Cup.
"The CFL is deeply-rooted in the hearts of Canadians across the country," Canada Drives founder and co-chief executive officer Cody Green said in a release from the league."The Grey Cup means so much to so many Canadians, and we couldn't be more excited to play such an important part in adding another chapter to Grey Cup history."
CFL chief revenue and marketing officer Tyler Mazereeuw said in the release: "We're thrilled to have Canada Drives join us in bringing the Grey Cup to fans and events throughout Hamilton.
"We're a proudly Canadian league, so the opportunity to come together with a homegrown Canadian company that serves our fans is incredible."