Canada's Trade X provides protected import, export services in a country with growing vehicle theft concerns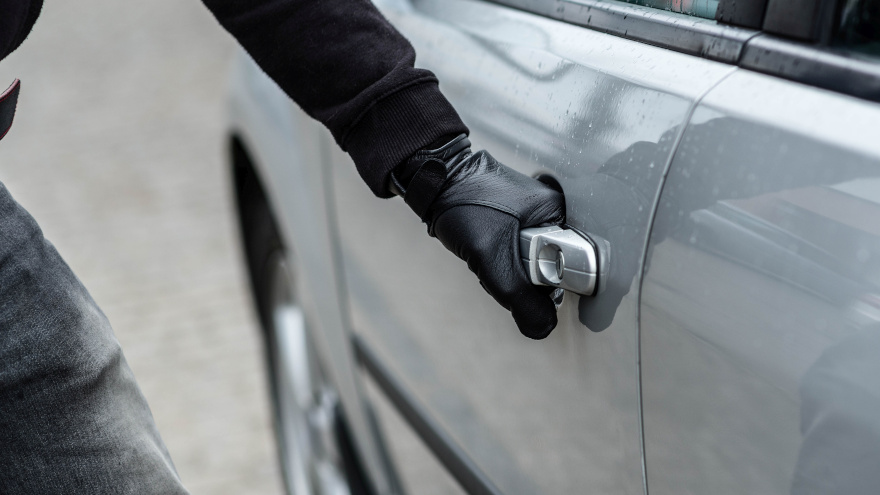 Vehicle theft levels are rising in Canada. And areas like West Africa, the Middle East, Eastern Europe and more are receiving an influx of illegally exported and imported vehicles from Canada.
Auto Remarketing Canada spoke with Trade X, an import/export online platform for dealers, to get a handle on legal versus illegal exports, and how companies like Trade X are helping Canadian companies ensure their cars stay safe.
Eric Gosselin, COO of Trade X, spoke up on this growing issue — one the exec unfortunately has had direct experience with in regards to his personal vehicle — just last year.
Gosselin had his 2022, brand new RAM stolen out of his driveway in a neighborhood north of Toronto in Oxbridge. Four other vehicles were stolen from the same neighborhood that night.
The amazing part? Looking back at the camera footage, Gosselin said the theft took all of three minutes. And his new 2022 RAM Sport was driven off in the middle of the night.
"Like most people, you use your garage for storage in a lot of cases, and we had just moved here. So we had some stuff in our garage, and my truck was outside," he said. "Fortunately, I had a ring camera, but they scrambled my ring camera."
That said, thankfully, the previous owners had installed cameras to monitor the outside of the house.
As aforementioned, the truck was out of the driveway in a matter of minutes, prompting Gosselin to say, "They really have it down to a science."
The vehicle was never recovered.
Some dealers are even adding switch-off tools, also known as kill switches, to all of their new vehicles, taking a historically aftermarket product and making it consistent across all its new stock. This ensures the vehicles will be more difficult to steal, and also adds a bit more revenue to the dealer's sale.
The Chrysler dealership Gosselin visited to replace his vehicle installed these tools on all its new vehicles, providing more peace-of-mind for Gosselin driving off the lot. (More to come on how dealer's are responding to vehicle theft trends in Canada as our vehicle theft series continues.)
Legal, protected import/export
Trade X specializes in cross-border automotive trade, in different corridors across the world.
"So when we're connecting a buyer and a seller, there's all kinds of complexities that go along with that," Gosselin said.
Trade X has office space, and a warehouse facility in the back to house vehicles — high-value vehicles. Gosselin said many are often in the $100,000-$500,000 range.
"We have a lot of vehicles sitting in that warehouse that are high value, so obviously, we have to provide a safe and secure space for that car," he said. "So our warehouse is equipped with cameras, motion detectors, and all of the normal things that you would to protect your car."
For Trade X, potential thieves would have to face various deterrents to get to the vehicles, which could take more time and often makes the crime unviable.
"Obviously Canada is a supply market, right? We're an export market for a number of reasons, one being the currency situation with the U.S., and just the availability of supply here," he said. "We're targets because a lot of us do have our cars parked in the driveway, and a lot of our cars are not equipped with some of those deterrents that you find at our warehouses that a company can use."
As an average citizen, the options are narrower, including clubbing your vehicle after it's parked, kill switches and the like. In Toronto, people are starting to put ballasts behind their cars, Gosselin said.
To illustrate the severity of the challenge, Gosselin said some of his industry partners are finding Ontario plates on vehicles in places like Iraq and Africa, and sending pictures back to the office.
For Trade X, it finds buyers in places like Africa, the Dominican Republic, Mexico and the U.S., for example, and connects a larger dealership group in the U.S. to the vehicles they need.
These cars can come from a variety of different auction platforms, including EBlock.
"We just happen to provide that almost like a customer service piece where we can help them logistically," he said. "We're able to provide all that, and we do all the background on the car prior to buying it. Whatever the car history report is, we would secure the paperwork, establish ownership, and then we would ship the car. All of that will be done prior to shipping the car."
This ensures there is no chance of a dealer acquiring a stolen vehicle for their lots, or corporations and municipalities finding them in their fleets.
Thankfully, Gosselin said it's pretty easy to sort out if a vehicle has been stolen, because it's likely the VIN number was reported to the police after the theft. That said, "background checks" on vehicles are crucial to this process in today's market.
"As a company, we work with reputable companies, whether they be the seller of the vehicle or the buyer of a vehicle. We have a very strict KYC (know your customer) process, and it helps us deter corruption or finance fraud, especially since we are working globally.
"That way, if somebody gets flagged in our system, we're able to attack right away," Gosselin said. "So I think the key is for anybody that's buying a car or selling a car, you're working with a reputable company. Because that's crucially important these days."
In Ontario itself, and across Canada in different pockets, you're seeing vehicle theft continuing to grow.
"There is an opportunity there, and criminals are going to take advantage of the opportunity as long as they can.
"I'm telling you … They are organized, they're systematic and they're quick," he said.
Editor's note: Auto Remarketing Canada has more coverage about vehicle theft, including a report based on information from Statistics Canada as well as how GPS devices can help curb the illegal activity.