Canadian new-car sales start hot, but where will they finish?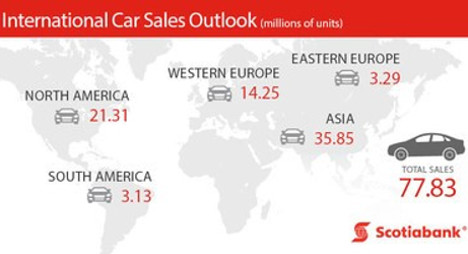 TORONTO -
Canadian new-car sales began the year in rapid fashion, but take that with a grain of salt.
It is likely that 2017 will be the end to a four-year streak of record sales in Canada, according to Scotiabank.
The company's latest Global Auto Report indicates that the annualized new-car sales pace in January was more than 2 million units; however, it's projected that Canada will actually end up selling 1.94 million new cars this year.
That would be down, albeit slightly, from last year's record 1.95 million new-car sales.
"Recent price increases for new cars and light trucks have started to dampen affordability, and will likely outweigh the positive impact of stronger economic growth in Canada this year," Carlos Gomes, who is Scotiabank's senior economist and auto industry specialist, said in a news release accompanying the report.
"Although vehicle sales in the commodity-producing provinces are finally starting to recover from the sharp double-digit declines of recent years, activity in the rest of the country is likely to trend lower," he said.
Alberta is expected to lift new-car sales from 220,000 units to 223,000 units this year, and Saskatchewan is projected to see its new-car sales rise from 51,000 to 52,000.
This would mark the end of a downward slide in Alberta car sales that reached a 30-percent peak-to-trough downturn, Scotiabank said.
"Firmer oil prices and the rebuilding in Fort McMurray are expected to boost economic growth in the province to around 2 percent this year, reversing the first back-to-back annual economic contraction since the early 1980s," Scotiabank said. "Economic activity and vehicle purchases are also bottoming in Saskatchewan with late-2016 sales largely in line with a year ago."
And considering that there was close 20-percent peak-to-trough downturn in Saskatchewan through the third quarter, that's solid progress, Scotiabank said. .
The two other Western provinces are likely to show stable new-car sales: Manitoba at 56,000 and British Columbia at 215,000.
"B.C. has been the second strongest auto market in Canada in the latest expansion and we expect sales to remain unchanged this year as economic activity remains solid outside of a less-hot Vancouver housing market," Scotiabank noted.
Manufacturing boosts should buoy sales in Manitoba.
However, the Atlantic provinces are likely to see sales drop from 140,000 to 135,000 — this would be a four-year low, according to Scotiabank.
As for the central provinces, Quebec will likely see a dip from 465,000 new-car sales to 463,000, with Ontario's new-car sales declining from 802,000 to 796,000.
Granted, Ontario's projection is coming off a peak year and is largely due to "slightly lower" production expected for 2017. And though Quebec will likely be softer, this would be the second straight year of more than 460,000 sales. Higher export volume and the country's highest leasing penetration are driving this strength, Scotiabank said.