Canadian Used-Car Prices On The Way Up; 2014 May Bring Reprieve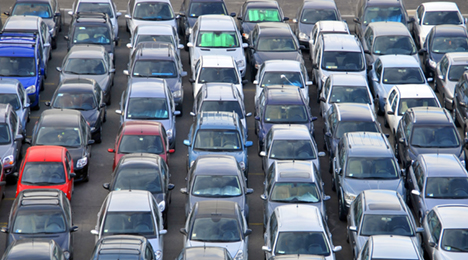 Though the end of summer brought a respite from the spiking wholesale prices that dealers have suffered all year, it seems rates are on the upswing once again.
According to ScotiaBank's Global Auto Report, Canadian used-car prices "picked up" in early October.
The report also shared some factors behind the price increases, that may not come as a surprise to the industry.
And the report explained that used-car prices will "remain strong in coming months due to ongoing tight supplies of pre-owned models."
This prediction comes off of a mild reprieve for dealers, as used-car prices fell a bit as summer came to a close.
According to the ADESA Canada Used Vehicle Price Index powered by ALG Canada, wholesale prices fell on average by about 0.5 percent month-over-month this August. And price movements were negative for nearly all the segments.
RVI's Risk Outlook Newsletter shows a bit higher of a decline, as officals reports used-car prices fell by 2.9 percent in August from July's rates.
But the reprieve was short lived.
Carlos Gomes, Scotiabank's senior economist and auto industry specialist said, "In Canada, car and light truck sales set a third consecutive monthly record in September. In addition, used-car prices picked up in early October alongside the recent expiry of enhanced incentives on several new vehicles, and will remain strong in coming months due to ongoing tight supplies of pre-owned models."
Much of this shortage of volume is being caused by what Scotiabank coined "plunges" in fleet and leasing volumes.
In fact, according to the report, leasing volume for 2009-2010 came in at an average of 350,000 units, which is less than half the volume seen during the previous decade.
Now, Scotiabank said rates are up from Great Recession lows, but in 2012, fleet/lease volume came in at 577,000, still 30 percent below pre-recession norms.
Dealers are definitely still feeling the effects of fewer off-lease vehicles coming on to the lots in Canada.
Interestingly, Scotiabank also shared that the supply situation in the U.S. is affecting the Canadian market, as well.
Since the U.S. is experiencing a tight supply environment, as well, Scotiabank contends this is stopping the flow of pre-owned vehicles imported into Canada from the U.S., which has dropped considerably.
And as used-car prices go up, new-car prices are on the way down — bringing pre-owned and new prices dangerously close.
This trend is made apparent, as new car and light truck sales are predicted to reach a record 1.72 million units this year, Scotiabank reported.
It seems manufacturers are set on making these units more affordable, which in turn could have a negative effect on used-car sales, as prices continue to rise in this market.
With increased incentives, new-vehicle prices in Canada have fallen by 5 percent since the beginning of 2013, according to the report. And this marks the fifth year in a row that automakers have ramped of incentives on new cars to push sales.
But it's not all bad news for those in the used-car market.
Scotiabank did provide some good news for dealers looking forward.
Although off-lease vehicle supply is tight, some loosening is expected to being in 2014.
Scotiabank contributes this loosening to the new-vehicle sales recovery from recession lows, a turn of events that is predicted to "increase the supply of pre-owned models for the first time since 2009."
But there's a caveat.
"Nevertheless, we estimate the supply response will be modest, and lease returns will remain well below pre-recession levels for an extended period," Scotiabank indicated.
According to RVI's latest Risk Outlook Newsletter, used-car prices are expected to decline between 2015 and 2018, as well.
"Used vehicle supply will increase between 2014 and 2018. This puts downward pressure on used-car prices and will result in year-over-year declines starting in 2015," RVI reported.
RVI predicts that used-car prices will decline by around 2.4 percent from current level through 2018.