Canadian used prices steady, but slight softening likely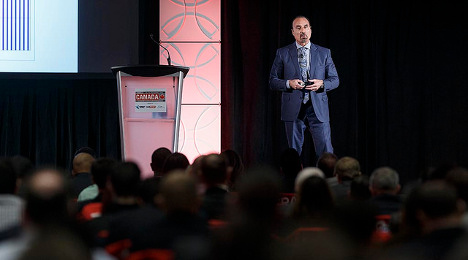 TORONTO -
It won't be a drastic change by any stretch, but Canada appears headed toward a modest softening in used-vehicle pricing.
And like the U.S., that dip is expected to be more pronounced for cars than for trucks.
As it stands, the market has been fairly solid and steady.
In a presentation here last week at the Auto Remarketing Canada Conference, KAR Auction Services chief economist Tom Kontos shared a fairly positive outlook on Canada's overall economy and auto industry, including the used-car side.
The country's new-car sales appear headed for a 1.9-million- to 2-million-unit year, which Kontos found to be a great sign.
March was the best month ever for new-vehicle sales "by a significant margin," according to the ADESA Canada Used Price Index report powered by ALG.
As for the wholesale market, straight-average data from ADESA's auctions indicate steady growth in used prices, Kontos said. The growth is plateauing, perhaps sliding a bit from peak levels, he said.
The softness that has found its way into U.S. wholesale prices has not yet been seen here, Kontos said.
"In Canada, there's a ways to go before we reach that stage," he said. "In the U.S., that stage has been reached. In Canada, it will take more off-lease volume and supply growth from other sources — perhaps fleet growth that we've seen in recent years, (with) more of those fleet vehicles coming back."
As that volume returns, Canada should see some downward pressure on used prices, Kontos said. "In the meantime, prices overall have been solid, and especially for SUVs and pickup trucks."
One of the drivers to that strength, particularly for SUVS and pickups, has been U.S. buyers going north and snatching up vehicles from an already scarce supply of these trucks.
But the Canadian market shouldn't count on that continuing for much longer, Kontos said.
The ADESA Canada price index — which adjusts for things like vehicle mix and seasonality, as opposed to a straight-average on price — has been on the rise for several years in a row, Kontos said, noting that it is likely the longest growth streak ever for the index.
Though there has been steady growth, there has been plateauing recently. The latest reading of the index — which came out Thursday, after Kontos' presentation —was flat, with wholesale values "stagnant," according to the report accompanying the index.
"What may be contributing to that plateauing is that U.S. buyers, which have really been a contributor to that growth over time, are starting to stay home because there's more volume available to them at home and the prices are starting to soften and become more affordable," Kontos said.
"It's been a great seller's market for a long period of time. That period of time may be coming to a gradual end. I'm not saying prices will fall off a cliff," he said. "In my crystal ball, I'm not predicting a downward turn in prices that's very dramatic, but a general softening in prices is what you should expect … largely due to supply and also due to, on the demand side, a 'staying home' of U.S. buyers."
Part of that volume may be in the form of vehicles coming off lease. Kontos sees off-lease growth in U.S. as a "precursor" to what could happen in Canada. But like the U.S., he finds the certified pre-owned market as a good outlet for that volume.
"We're going to see a resurgence in off-lease volume — maybe not at a level that's alarmingly high, but at a level that will put downward pressure on used-vehicle values," Kontos said. "But if you have, on the demand side, an opportunity for consumers to really embrace the certified pre-owned alternative to both a new and a used-vehicle, I think it creates a good environment for sustaining used-vehicle values despite growth in supply."
Another influencer on used-vehicle prices is the incentives on the new-car side. In general, Kontos finds some of the incentive activity somewhat concerning, but more so for the U.S. than for Canada.
"If the economy stays strong, if new-vehicle demand stays strong and if manufacturers remain disciplined in their use of incentives, then I don't think it will be a huge threat here in Canada," he said. "I think it's becoming more so a threat in the U.S.; maybe less so here in Canada.
"But keep an eye out on that," Kontos told the crowd here, "and to the extent that you've got any say in the matter, try to maintain that discipline going forward."