CARFAX Canada revamps history report design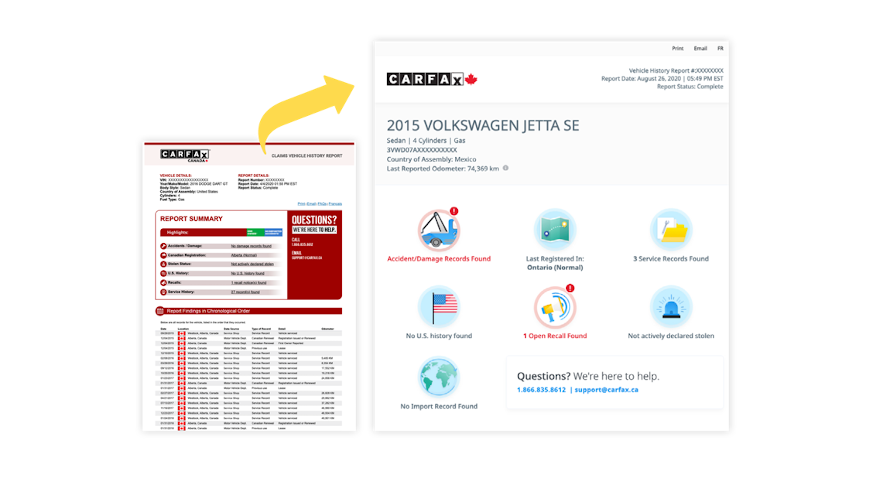 LONDON, Ontario -
CARFAX Canada said Friday it has revamped its Vehicle History Reports' design, with the goal of making it easier for consumers to grasp a car's history and to see the information needed to make the best buying and selling decision.
Among the features of the new design is a summary section at the top of the report that includes key details like number of accident/damage reports, open safety recalls, service history records and liens.
The history reports also have an improved layout designed to be "more intuitive" and "visual" in presenting information to help the viewer assess the history quickly.
The new design also includes tool tips in each section to help the reader better understand things like liens, registration, registration history and stolen status. It also glossary and FAQ links.
The revamped design is also in a responsive format to accommodate platforms like laptops, tablets and mobile devices and for printing.
"We're proud to unveil the new vehicle history reports as they are what put us on the map and what Canadians have come to rely on us for," CARFAX Canada president and general manager Mark Rousseau said in a news release.
"The upgraded report is the result of listening to our customers — every inch was re-designed with them in mind. Upon experiencing the new report, our customers told us the new design is clean, modern and user-friendly. This enables us to empower millions of Canadians with the information they need to make better decisions and help thousands of dealerships buy and sell used cars."