CARFAX Canada service helps provide peace of mind on maintenance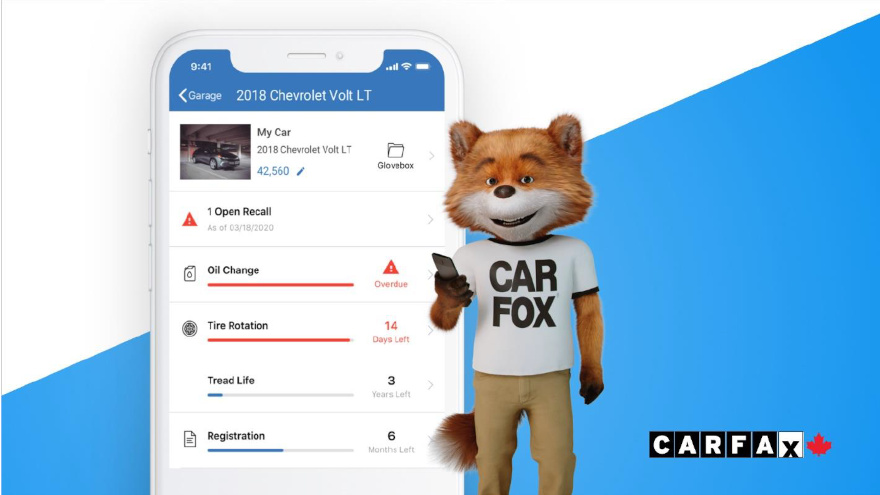 LONDON, Ontario -
A new CARFAX Canada service helps vehicle owners stay on top of car maintenance schedules and keep track of service records, including reminders that alert users of upcoming service recommendations specific to their vehicle.
CARFAX Canada said the free service, called CARFAX Canada Car Care, makes taking care of a car easier than ever.
Canadians can sign up by providing an email address and the license plates or VINs they want to add via carfax.ca/service.
Noting that one in five vehicles have an open recall, CARFAX Canada said Canadians want an easy method of learning whether their vehicle has been impacted.
The company said that with Car Care, Canadians receive automatic recall alerts to give them peace of mind, helping owners learn about open recalls affecting how their vehicle runs and its safety.
Regarding the benefit mentioned earlier about alerts on upcoming service recommendations for the user's vehicle, CARFAX Canada said those recommendations vary by make/model and mileage interval. The service can help Canadians stay organized, and that is especially the case for households with more than one vehicle to maintain.
Additional benefits of the service include:
— A search feature to assist users in locating participating service shops in their area. Ratings and reviews come with the listings, and CARFAX Canada said that helps eliminate guesswork regarding which shops are trusted for quality repairs and maintenance.
— Access to historical maintenance services done at participating shops by previous owners. According to CARFAX Canada, that provides important information to the current owner, showing the services that were completed in the past and the cadence in which they were performed.
— The capability to automatically track and store services that participating shops complete. That helps keep a digital record of a vehicle's service history in one place. CARFAX Canada said those records help prove that the vehicle is in great shape when it comes time to sell the vehicle.
CARFAX Canada said it has heard from Canadians who said that with Car Care, they no longer must dig through paper receipts in their glovebox or consult the user manual to learn which services have been completed on their vehicle.
Also, especially if they have an older model that's no longer under warranty, many owners did not know exactly which service the vehicle required next.
The company said Car Care users appreciate that they could gain access to that information on their smart phone and that they did not have to figure it out themselves.
"We're proud to launch Car Care as it helps Canadians keep their vehicles in top condition, which we know is not always an easy task," CARFAX Canada president and general manager Mark Rousseau said in a news release.
Rousseau also said, "Given that a car is one of the most significant investments you'll make in your lifetime, it's understandable that you want to take great care of it. Car Care makes this task simple with convenient reminders, a search function for trusted shops and digital record-keeping all in one place."