CarProof announces strategic partnership with OpenRoad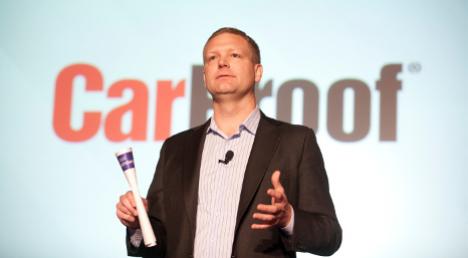 LONDON, Ontario -
In a continuing effort to increase transparency in the used-car buying market as well as create new strategic partnerships for the company, CarProof announced this week it has teamed up with British Columbia's OpenRoad Auto Group.
CarProof and the fast-growing dealer group plan to jointly conduct extensive consumer research in an effort to "define the next-generation used-car buying experience."
Ed Woiteshek, CarProof's president and chief executive officer, said, "OpenRoad is the number one automobile retail group in B.C. We are thrilled to have the opportunity to work with them to develop ideas that may define the path ahead in the used car industry."
Woiteshek discussed the move in more detail with Auto Remarketing Canada on Tuesday, noting the partnership solidifies OpenRoad's commitment to CarProof's products, but also acts as an opportunity to further efforts to research ways to make the used-car buying experience smoother and more efficient for all involved.
"As part of the partnership, we as you know, want our engagement with dealers to not just be about vehicle history reports, but rather about the whole car-buying experience," he said. "And so it's really tying all that together. It's us engaging with them to do some ground-up work with consumers to understand how to make the used-car buying experience easier, more transparent and more fun for consumers."
CarProof has also partnered with Birchwood Automotive Group and Group Park Avenue to conduct similar research in other provinces.
In fact, CarProof, jointly with Birchwood Automotive Group, plan on releasing the results of their consumer research by the end of the month. At Birchwood, CarProof had seven employees on their lots for a week interviewing customers, "and we got a lot of amazing insights out of that," Woiteshek said — insight which he hopes leads to a lot of good conversations and recommendations on how to make the buying process easier for used-car buyers.
One of the results of that research is a new "generation" of integration of CarProof VHRs on both the Birchwood and Groupe Park Avenue websites, which pulls information out of the report and makes it more quickly available to consumers.
"That was a result of talking to consumers and seeing how important it is for them to see a vehicle history report online, what kind of feelings they get when they don't see it, and what would make it easier for them to consume it," Woiteshek explained.
Woiteshek aims to take a similar approach to initial research with OpenRoad.
"We are doing a similar type thing where we are going to go do voice of the customer work, and really understand the user experience in B.C., and specifically, OpenRoad dealerships. We are going to really focus on the used-car experience online and in-dealership," he said.
OpenRoad, which launched back in 2000, is one of the most quickly growing dealer groups in Canada and touts over 750 employees representing 12 new-car brands and over 450 used vehicles throughout its 15 stores.
"At OpenRoad, our goal is to take the used-car buying experience to the next level by making the process easier and more transparent while continuing to provide the best service and value for our customers," said Mark Lin, senior vice president and chief operating officer at OpenRoad. "We're thrilled to partner with CarProof, Canada's most trusted company for vehicle history reports to bring new tools and insight to all of our dealerships which will enhance our processes and demonstrate our commitment to providing a superior experience in our pre-owned departments."
OpenRoad also provides CarProof VHRs on all their used vehicles and is currently piloting CarProof's Vehicle Valuation Report, which is an appraisal tool aiming to simplify the trade-in process and make it less of a "pain-point" for consumers.
Woiteshek said there have been quite a few large dealer groups who have been in the pilot program for the valuation product for months now, and the reception has been "great."
"There is a lot of value in the product bringing to dealers, and one of the biggest values is it is creating transparency in the trade-in value," he said. "That's a big pain-point for consumers right now that the Vehicle Valuation Report is helping solve."
CarProof is tentatively planning for a Q1 2016 roll out for the valuation tool.
"Our focus is on building a product that 3,000 dealers in Canada are going to want to use. We are in no rush to get out the door. We are just going to keep iterating on it and making it better until we feel like it's ready," Woiteshek said.
What makes OpenRoad, Birchwood and Groupe Park Avenue a good fit for CarProof's efforts to create strategic partnerships in the industry?
Woiteshek said it's all about commitment.
"They have got to be willing to roll up their sleeves, engage with us and do the work to figure out how we go get real good feedback from consumers," he said. "These three dealers are forward-thinking, and they are actually willing to do something about it.
"They want full visibility on what's working and what's not working in their business, and we are helping provide that to them so they can map the journey ahead for their customers," he concluded.
As for whether we can expect more partnership announcements in the future from CarProof, Woiteshek said a few more will be rolling out over the next few months.
He explained this is part of a change in the overall CarProof strategy.
"Our relationship used to be with the used-car manager, which is a great advocate for us, and we need those relationships to be strong, but those are pretty tactical, where what I have been doing this past year is trying to build true strategic partnerships with dealer principles and dealer groups," he said. "So, you are seeing the first real external announcement we have done on it, but there will be more to come."