CARPROOF cooks up innovation in Kitchener product lab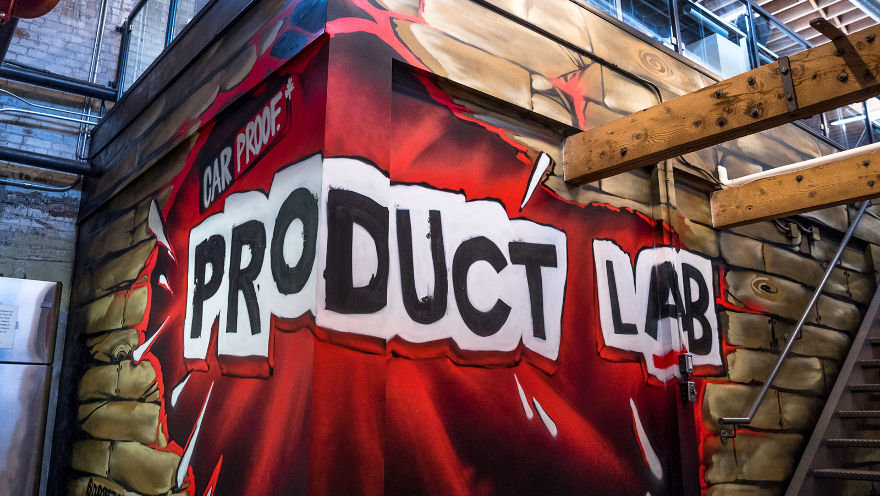 LONDON, Ontario -
At the home of CARPROOF's new Product Lab at the Communitech Hub in Kitchener, Ontario, it has a wide array of neighbors, amid the exposed brick and converted factory feel.
There are massive, established names like General Motors, Thomson Reuters and Blackberry, small to midsize companies like CARPROOF, and startups just getting their feet wet.
"It's a really unique collaboration between the local tech companies, the university, the governments in Canada and a lot of different folks to create really a partnership and an ecosystem around technology and furthering technology," said Greg Beckman, CARPROOF's vice president of product management, in a phone interview.
CARPROOF moved into its Product Lab space in September, before setting up and officially launching on Nov. 22.
For the small to midsize companies, like CARPROOF, among the more than 1,400 tech outfits at Communitech, the hub is a resource for growth and "scale up in operations and technology," Beckman said.
For larger players like the GMs and Blackberrys of the world, it's a chance to drive "more of an innovation focus."
Startups, meanwhile, can tap into Communitech programs on mentorship, sales, legal advice and so forth.
While the hub isn't actually investing in these startups, Beckman said, "they're really looking to enable the technology community and startups, and companies like us to really connect and work with each other."
How CARPROOF will use space
Beckman said that CARPROOF will use its Product Lab for enhancing products, testing new products and perhaps collaborating with partners.
For instance, it has projects around data science and machine learning, where the company is looking to see how it can get more value out of data.
Another project aims to dive further into mobile, Beckman said.
There's a prototype involving image recognition of a vehicle that can generate an array of vehicle details.
"Setting up the Product Lab gives us access to the world-class tech ecosystem within Communitech," Beckman said in a news release. "Being a part of this family brings invaluable opportunities to connect with new partners, networks and talent."
The company is looking to "step up our talent pool," and has already hired 12 employees for the lab, with the hopes of doubling that over the next year and change, Beckman said.
Collaboration, inside & outside of auto
With 1,400-plus tech firms utilizing Communitech, there are opportunities for CARPROOF to work with companies inside and outside of automotive.
There's also a data hub at Communitech, Beckman said, where data-focused firms like CARPROOF can test out new algorithms or techniques.
"Fundamentally at its core, CARPROOF is really a data company," Beckman said. "A lot of our data happens to be in automotive, and all of our products are obviously focused on automotive, but working with data, the storing and data management of it, and then the intelligence off that data is something that a lot of companies are working on. And it's becoming that new digital currency, obviously."
He added: "For us, we've got a plethora of data sources and access to a lot of data and a lot of audience within the Canadian automotive industry, and you also have startups on the other side that are looking to do interesting things and solve interesting problems, that potentially do link up with automotive.
"So there's definitely automotive startups that are doing things like gauging the health of a vehicle based on the vibrations of the car, based on the acoustics of the engine, diagnosing service issues."
Given the service data resources that CARPROOF has, coupled with the acoustic analysis and data-mining capabilities of other companies, for instance, there could be some "overlap" and potential collaborative projects, he said.
At any rate, CARPROOF said its expansion gives them the chance to develop further and bring new tools to the car business.
"We're uniquely positioned to provide data, insights and intelligence to the Canadian auto sector through the extensive relationships we've built with our customers and industry partners," Beckman said in the news release. "CARPROOF's new space at Communitech further establishes our role as a leader and innovator in the Canadian automotive space, and a driver of positive change through data and technology."