CBB launches 'Best Residual Value Awards'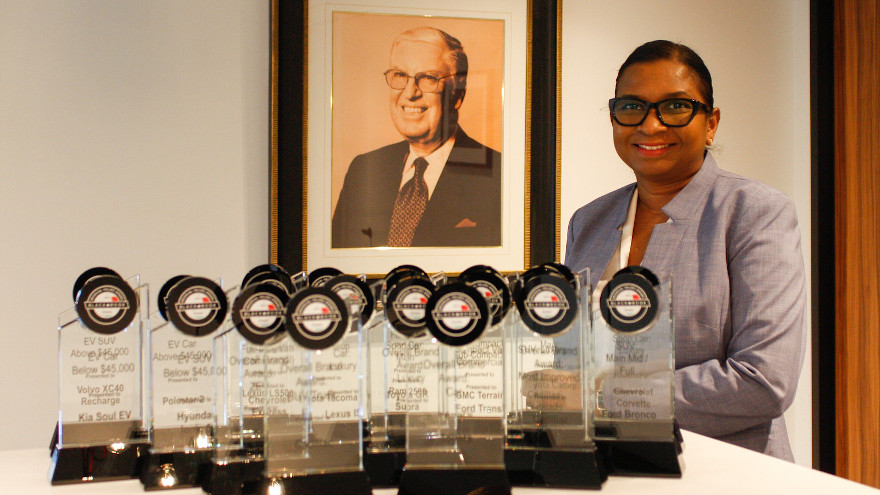 Canadian Black Book has debuted a new awards program.
In addition to its existing "Best Retained Value Awards" for automakers, CBB is launching the "Best Residual Value Awards."
The latter spotlights vehicles expected to hold the greatest value of MSRP 48 months after original purchase date, honoring models in 21 categories of cars, trucks, SUVs and electric vehicles.
Meantime, the existing Best Retained Value Awards are based on, "how much of a vehicle's original MSRP it holds after four years of ownership," CBB said in a news release.
"In short, 'Retained' awards measure value held from the past and the new 'Residual' awards measure values held into the future," the company said.
Yolanda Biswah, who is vice president and general manager of CBB, said in the release: "Due to our position as a leader in wholesale and residual value data and analytics, the Residual Value Awards were the logical next step for us and the industry. The company's values are based on art, science, and an unbiased approach, and these awards reflect that formula."  
Vehicles must have been on sale by Jan. 1 and included in the January/February Canadian Black Book Residual Value guide to be eligible for the new award. CBB bases the value forecast on 48 months of age with an average mileage of 24,000 kilometers driven.
As far as the inaugural winners of the Residual Value Award, Toyota took home the overall car award, while Cadillac earned top honors for both SUV/truck and most improved. Lexus earned the award for luxury, while Kia won in zero-emissions vehicle category.
Toyota and Lexus combined for seven category wins and earning 12 first, second or third place finishes. General Motors had six category wins and seven first-, second- or third-place rankings.
"Our new Residual Value Awards were designed to better represent the dynamic of today's Canadian auto market. Therefore, we have put so much more emphasis on EV categories — growth in EV options and consumer acceptance are hugely influencing today and tomorrow's market," said James Hancock, who is CBB's director of OEM strategy and analytics.