CBB: Pandemic made 'huge impact' on used-vehicle retained values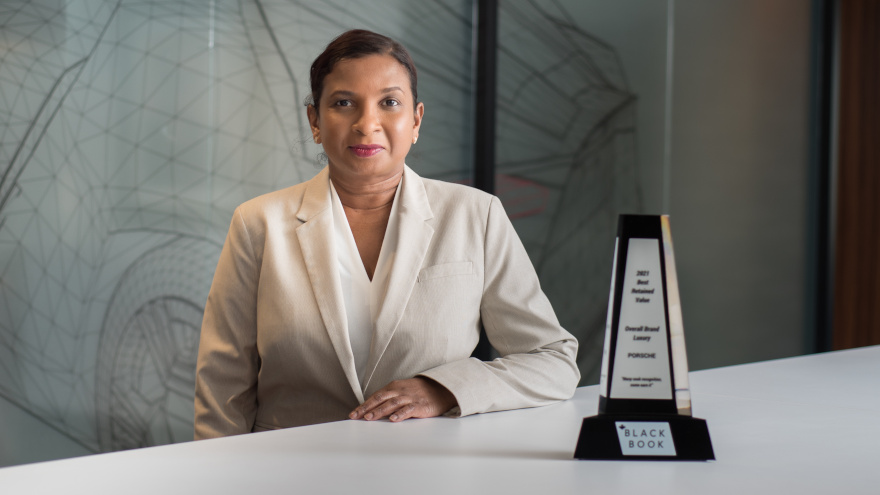 MARKHAM, Ontario -
If one message can be taken from the Canadian Black Book 2021 Best Retained Value Awards, with winners announced Wednesday, it is that used vehicles today are holding far more value than ever before.
That is the case even as Canadian Black Book vice president of sales Yolanda Biswah said the past year has been a wild ride in terms of retained values.
Economic phenomena directly related to the global pandemic have propped up much of the gains, Biswah said.
"We have been through steep record-setting declines last spring, followed by rapid increases culminating in record level retained values in Canada across the board," Biswah said in a news release.
The Canadian Black Book Best Retained Value Awards quantify retained value for every model of 4-year-old vehicles in Canada in 23 segments. Three "overall brand awards" are presented to OEMs that hold the most value among their full product line.
For 2021, the overall brand awards for cars goes to Honda.
Toyota wins the award for trucks/SUVs, and Porsche wins in the luxury brand category.
On average across all car segments overall, they held 53.1% of original MSRP after four years across nearly 3,000 trims.
Trucks/vans/SUVs held a much-higher 63.6% across nearly 13,000 trims.
CBB said supply, or lack thereof, has been the overarching factor contributing to the major gains in retained value.
Supply disruptions have been a boon to the industry since the early days of the pandemic, CBB said.
Retail traffic slowed because of COVID-19 related restrictions. That stalled any trade-in activity for months.
Rental agencies saw major business loss and held onto units longer. That kept those vehicles out of the used market. During the tough times, repossessions were mostly put on hold for consumer relief. have still not gotten back to pre-pandemic levels, which has again kept those vehicles away from auction and used lots.
"People have been driving less and therefore keeping cars longer and therefore not trading in," CBB said.
Through the past 18 months, supply from OEMs and parts suppliers (microchips, for example) has been slowed and delayed. That has caused shortages of new units and increased demand for used.
"Couple this with a general increase in demand for slightly used models in good shape, and we find these units turning quickly off of used lots," CBB said.
These quick sales are depleting what CBB says is an already-low supply, which has resulted in historically high retained value, as illustrated by the 2021 Canadian Black Book Best Retained Value Awards and the monthly CBB Used Vehicle Retained Value Index which has posted record levels for many months straight.
CBB said the zero emission category has made progress since it was first included as a category in 2019. The Chevy Bolt was the winner in the segment, taking a leap forward with 56%. The Ford Focus won the category last year at 51%.
The category itself held 47% of original MSRP on average versus 45% last year and only 40% in 2019.
"Used EVs and BEVs are becoming more valuable," CBB said.
The full list of winners can be found here and below.
2021
Overall Brand Awards
Car
Honda
Truck & Crossover/SUV
Toyota
Luxury
Porsche
MODEL
1st
2nd
3rd
Sub-Compact Car
Honda Fit
Toyota Yaris
Hyundai Accent
Compact Car
Toyota Prius v
Honda Civic
Toyota Corolla
Mid-Size Car
Honda Accord
Toyota Camry
Nissan Altima
Full-Size Car
Toyota Avalon
Dodge Charger
Nissan Maxima
Entry Luxury Car
Lexus IS-Series
Mercedes-Benz
C-Class
Mercedes-Benz
CLA-Class
Luxury Car
Mercedes-Benz
E-Class
BMW 5 Series
Volvo V90
Premium Luxury Car
Porsche Panamera
Mercedes-Benz
CLS-Class
Mercedes-Benz
S-Class
Premium Sports Car
Porsche 911
Chevrolet Corvette
Porsche
Cayman
Sports Car
Ford Mustang
Dodge Challenger
BMW 2 Series
Small Pickup
Toyota Tacoma
Chevrolet Colorado
Honda Ridgeline
Full-Size Pickup
Toyota Tundra
Ford F250 S/D
Ford F150
Minivan
Honda Odyssey
Toyota Sienna
Kia Sedona
Full-Size Van
Mercedes-Benz
Sprinter 2500 Cargo
RAM ProMaster
Mercedes-Benz
Sprinter 3500 Cargo
Compact Commercial Van
Ford Transit Connect
Mercedes-Benz Metris
RAM ProMaster City
Compact Crossover/SUV
Honda CR-V
Mazda CX-5
Toyota Rav4
Mid-Size Crossover/SUV
Jeep Wrangler
Toyota 4Runner
Toyota Highlander
Full-Size Crossover/SUV
GMC Yukon
Toyota Sequoia
Chevrolet Tahoe
Compact Luxury Crossover/SUV
Porsche Macan
Mercedes-Benz
GLC-Class
Lexus NX Series
Mid-Size Luxury Crossover/SUV
Lexus GX460
Lexus RX Series
Mercedes-Benz
GLE-Class
Full-Size Luxury Crossover/SUV
Mercedes-Benz
G-Class
Lexus LX570
Range Rover Sport
Sub-Compact Luxury Crossover
MINI Countryman
Audi Q3
Mercedes-Benz
GLA-Class
Sub-Compact Crossover
Honda HR-V
Mazda CX-3
Jeep Renegade
Zero Emission
Chevrolet Bolt
VW eGolf
Kia Soul EV
SOURCE: Charts courtesy of Canadian Black Book.