Civic, CX-3 honored by AJAC as best new vehicles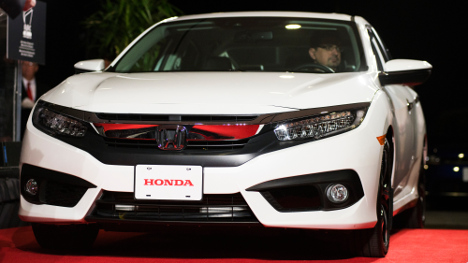 TORONTO -
The Automobile Journalists Association of Canada, or AJAC, announced the nine best new car category honorees this past November, and the organization revealed the two final winners at the Canadian International AutoShow in Toronto late last week.
AJAC has named the Honda Civic the 2016 Canadian Car of the Year, while the Mazda CX-3 took home the award for 2016 Canadian Utility Vehicle of the Year.
The two models were category winners, as well: the Honda Civic in the Best New Small Car segment, and the Mazda CX-3 for the Best New SUV/CUV (under $35,000) category.
The nine "Best New" category winners were eligible for the two awards; Volkswagen and Mercedes-Benz were double winners, and other brands recognized included Chevrolet, Honda, Kia, Mazda and Volvo.
The popular Honda Civic took home top honors this year, and Jerry Chenkin, president of Honda Canada Inc., had this to say after hearing the news:
"On behalf of the thousands of Honda associated across the country including the more than 4,000 at our HCM facility who lead global production of the 10th generation Civic, I'd like to thank AJAC for this award," he said. "The all-new Civic is the most innovative, ambitious and advanced iteration Honda has ever produced, setting a new benchmark in the compact car segment, and we're both elated and humbled that AJAC has recognized this achievement."
The new Mazda CX-3 was also honored at the AutoShow, earning recognition as the best new utility vehicle.
Vincent Reboul, director of marketing at Mazda Canada, said, "We are absolutely delighted that AJAC members have voted for the Mazda CX-3 as the Canadian Utility Vehicle of the Year. Being chosen over the very worthy competition we faced is a strong endorsement of everything the CX-3 brings to the table: show-stopping KODO design, excellent real-word fuel efficiency, thanks to SKYACTIV Technology, and all-weather capability with Mazda's predictive i-ACTIV AWD system."
AJAC will also announce the winners of its Canadian Green Car of the Year awards at the Vancouver International Auto Show in March.
Check out an earlier Auto Remarketing Canada story out for more on how AJAC chooses which vehicles to recognize as the best new models of the year.