Companies pledge support to wildfire-ravaged community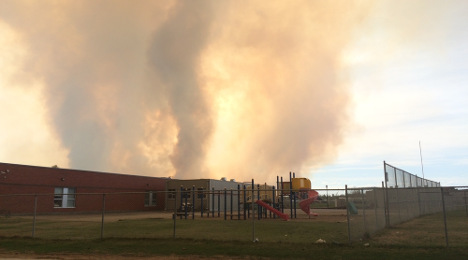 CARY, N.C. -
When DealerSocket's Sam Rizek heard about the devastating wildfire in Fort McMurray, Alberta, early last month, he knew his company had to do something.
So the director of sales and business development in Canada helped hatch a plan to donate 100 percent of setup fees collected from the company's Canadian clients during May to that country's Red Cross.
"I sent a text message on a Saturday to Susie (Storey), my VP, and Matt (Redden), my CSO, and literally within minutes I got a text back from Matt saying, 'Let's do this.' I thought there would be more of an approval process," Rizek said during an interview with Auto Remarketing Canada.
Then he quickly asked if they could extend the effort through June. The answer, in an instant: Yes.
"Some of our vendors had done one-time donations," Rizek said. "One time is great, but it's more 'one time.' This we get to carry over and hopefully make dealers feel good about something they were going to do anyway, which was to pay setup fees to join with us."
He noted that setup fees for the company's myriad products range from $500 to $5,000. Based on previous years' setup fees and adjusting for some additional product lines, Rizek estimated DealerSocket would be donating $30,000 to $40,000 to the Red Cross.
Rizek stressed the widespread affect of the wildfire, which continues to burn and has displaced tens of thousands of people.
"All of Canada is really affected," he said. "That's the one thing about this tragedy vs. a lot of other ones that may occur. This one was in a pretty significant place in Canada because of what Fort McMurray represents to the economy in general because of the oil production there.
"I was reading the other day that the Canadian GDP was supposed to be up 1.5 percent this quarter," Rizek continued. Because of this shutdown of oil fields, now the GDP will be down that amount. It's something so significant that affects the whole country. It affects everything. Probably one of the widest-spread things that has occurred in Canada in a long time."
Other auto companies are doing their part to aid victims.
In early May, Cox Automotive Canada and its Manheim Edmonton, vAuto, VinSolutions, Xtime, DealerTrack and NextGear Capital business units pledged their support to Fort McMurray in the form of a $30,000 donation to the Canadian Red Cross.
Cox Cares also said it would match employee donations to the Canadian Red Cross Alberta Fires Appeal. Additionally, Manheim Auction locations across Canada were accepting new and gently used clothing and other donations to aid Fort McMurray evacuees.
And on May 20, The Enterprise Rent-A-Car Foundation announced it was donating $100,000 to the Canadian Red Cross.