'Consistency' Theme of 2014 Canadian Black Book's Best Retained Value Awards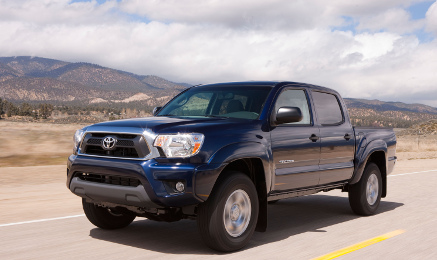 TORONTO -
CanadianBlackBook.com today released the results of its annual "Best Retained Value" winners across 19 vehicle categories.
Once again, Toyota continued its streak of awards, taking first in the small pickup (Toyota Tacoma) and full-size pickup (Toyota Tundra) segments for the fifth straight year; and for the fourth consecutive time in the mid-size SUV (Toyota FJ Cruiser) and full-size SUV (Toyota Sequoia) categories.
The awards track vehicle values over a four-year period, so this year's set measures how well 2010 model-year vehicles have held their value through December 2013.
CanadianBlackBook.com names first-, second- and third-place "Best Retained Value" award winners in 19 popular car and truck categories.
Toyota's Prius, Avalon, Tacoma, Tundra, FJ Cruiser, Sequoia and the Lexus GS, all posted first-place finishes.
Among domestics, Chrysler chalked up the best performance, with Jeep Wrangler winning compact SUV for the fourth straight year; and the Challenger winning in the sports car category for the third year in a row.
And two first-place finishes each by Porsche and Mercedes helped European manufacturers double the number of awards secured this year compared to 2013.
When asked why Toyota continues to do so well with retention rates, Josh Bailey, vice president, research and editorial at Canadian Black Book, said it comes down to the automaker's reputation for quality — despite dealing with multiple recalls in the past five years.
"I think an element of it is certainly Toyota has a reputation for quality, I know they have been through a few recall situations lately … but I do think they handle those problems well," Bailey said. "Talking to people who actually own the vehicles and take it out of the headline context, people walk away from the experience more confident than they were going into it because the automaker handles these issues so well."
Toyota is also very careful not to over saturate their markets, which in turn leads to strong retention rates.
"I also think that there is a scarcity factor. When we look at several of the winners, they often tend to be lower volume. And comparing Tundras to the domestic pick-up trucks, certainly there is a scarcity factor there. And I think that keeps the values relatively strong. And Toyota doesn't typically pour too much in the way of cash incentives on those trucks either," Bailey explained.
CanadianBlackBook.com analysts explained that "consistency" is the theme for the 2014 awards.
On top of Toyota's winning streak, Chrysler (Jeep Wrangler, compact SUV segment) , Honda (Honda Fit, subcompact car; and Honda Odyssey, minivan) and Subaru (Subaru Outback, mid-size car) also racked up repeat first-place finishes, all for at least three years running.
"Although CanadianBlackBook.com proclaims the winners, in effect, it's the Canadian car buyer who decides who wins our Best Retained Value awards," said Bailey. "In the end, it is consumer perceptions and how much they're prepared to pay for cars and trucks that ultimately determines how much a vehicle is worth."
The Outliers
Consistency was the name of the game this year around, but there were a couple of outliers among the award winners, as well.
One of these outliers continues to be the Toyota Prius, as most of its alternative-fuel counterparts continue to lose value.
The Toyota Prius won first place in the compact car category, with the Volkswagen Golf and Subaru Impreza following, respectively.
When asked why the Toyota Prius continues to stand out from its hybrid competitors, Bailey said, the fact that it stands on its own is a big plus for retention rates.
"I found that hybrids where they are unique product tend to stand out and do better in terms of retaining value. While ones that are more part of a comprehensive platform program, like Camry or Altima, they have hybrids as an element, but they tend to get washed away," Bailey explained.
One of the reasons might also be price: when compared to the traditional fuel option, models like the Honda Civic Hybrid might get overlooked due to their higher price tags.
"When it comes to Altima and Camry, and anything else that has a hybrid option, they need to go after the volume of the price point of where people are buying. Most of the time, they hybrids sit just right above the common price point, so we don't see people pursue those as strongly as something like a Prius," Bailey said.
Another outlier this year is the following surprise winner: the Hummer H2, which delivered the highest retained value percentage of all vehicles for 2014.
It topped the list, retaining 71 percent of its original MRSP after four years of ownership.
"Its value actually increased last year, so it's bit of an anomaly," says Bailey. "The vehicle is now out of production which is contributing to its desirability."
"It is remarkable when I see a Hummer H2 at auction, it is almost certainly going to draw a crowd, almost regardless of mileage, repair history, etc. I have a feeling that a lot of them are getting purchases and then shipped overseas," Bailey said.
Scarcity may also be a playing a role.
"They were never sold in large volumes to begin with … but I think as they are leaving the market completely, it is creating a vacuum. There still seems to be enough people that want to be rolling around in their Hummer," Bailey said.
European Automakers Double Award Wins
Lastly, Bailey touched on how the European brands managed to double their award count this year.
Though that only brings the European automakers up to four awards, it still represents a big jump from last year. The newcomer's awards are due to a couple of new units becoming eligible this year.
"Because we are looking at 4-year-old vehicles, this is the first chance for the Porsche Panamera to show up on the list, so I think the volume is fairly small again versus the S Class, but there is still a demand in the used-car market," Bailey said. "Comparing the 2010 and 2014, we might recognize the differences, but to the average Joe, he could probably pass it off as a new one."
And for Mercedes-Benz, this was the first year the GLK was eligible, and it has done very well, says Bailey.
"It really is in high demand. There really isn't a shortage of those, so the strong retention rates really speak to how many people are looking for these models in the used-car market," he added.
A full listing of this year's winners, along with previous winners can be found on CanadianBlackBook.com.