Copart opens in Moncton; holds its 1st Montreal online auction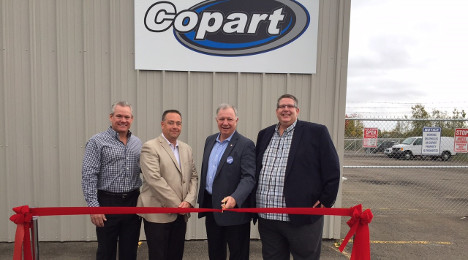 TORONTO -
Copart Canada announced Friday morning the grand opening of its Moncton, New Brunswick location, which serves to grow the company's footprint in Eastern Canada.
The company also shared it has completed the full integration of Copart's Virtual Bidding – The Third Generation (VB3) technology at the Montreal, Quebec facility.
"We are excited about our growth in Canada and our ability to provide a first-class, online auction experience in both English and French Canadian," said Steve Macaluso, managing director of Copart Canada. "Launching these locations as a part of Copart Canada has been a team effort across the company. We are also grateful for the support from these communities as well as our insurance partners."
Copart Moncton hosted its first sale on Oct. 13 and will be hosting an auction every second Tuesday going forward, the company shared.
Highlighting the company's VB3 technology, both the Moncton and Montreal locations have now successfully hosted online auctions using the tool. Copart management said the online auctions "have received a high level of engagement from Copart's international buyer base."
The VB3 technology is new to the Montreal location, as well. Copart Canada purchased Encan Berpa, what is known known as Copart Montreal, back in November of 2013. And the company announced today that after upgrading and developing new technology, VB3 was fully integrated and translated to French Canadian.
"Prior to this upgrade, the auction was a traditional live auction with a broadcast web tool," the company said. "Now, with VB3, this location joins the rest of the Copart auctions using the leading patented auction technology.
Copart Montreal offered its first fully online auction on Nov. 3 and experienced record auction attendance compared to attendance numbers prior to the integration. Now, online auctions for Montreal are hosted weekly, on Tuesdays at 10 a.m. EST.