Cox Automotive Canada expands senior leadership team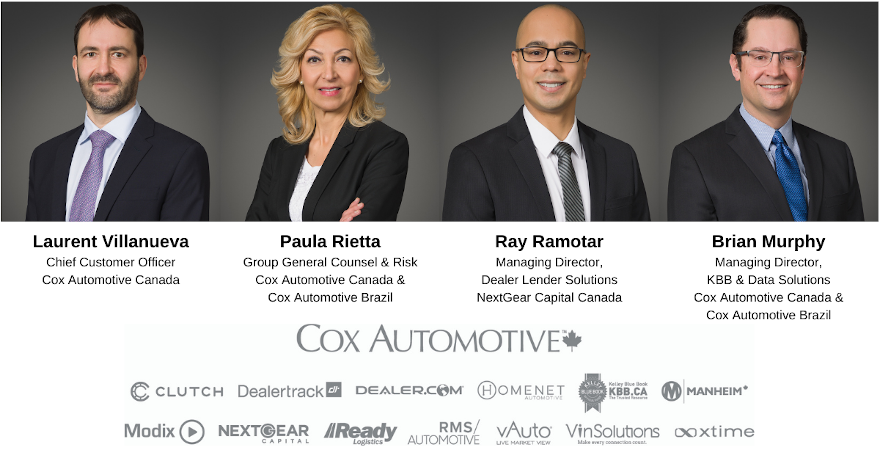 MISSISSAUGA, Ontario -
Cox Automotive Canada has expanded its senior management team, adding four new leaders, including longtime J.D. Power and Canadian Black book analyst Brian Murphy.
Coming aboard as chief customer officer for Cox Automotive Canada is Laurent Villanueva, who was most recently executive vice president of client services at Dealer-FX.
Named the group general counsel and risk for Cox Automotive Canada and Cox Automotive Brazil is Paula Rietta, who joins from Ford Credit Canada Co., where she was vice president of legal.
Next up, Cox Automotive Canada's new managing director of dealer lending solutions is Ray Ramotar, who comes over from BMO Automotive Finance, where he was director of operations.
Meantime, Murphy has joined as managing director of KBB & data solutions for Cox Automotive Canada and Cox Automotive Brazil.
His most recent post was as VP of research and analytics at Canadian Black Book.
All of these executives report to Cox Automotive Canada and Cox Automotive Brazil president Maria Soklis.
"These leaders will further strengthen and diversify our leadership capability through their vast knowledge and experience and will play a strong role in supporting our organization as we transform the way the world buys, sells, owns and uses cars," Soklis said in a news release.
She added: "With these additions to an already strong group of leaders and nearly 1,000 incredible team members across the country, I'm further convinced of Cox Automotive Canada's ability to guide and support our clients and our industry through a period of significant change and transformation."