Dealer Talk headed to Calgary in October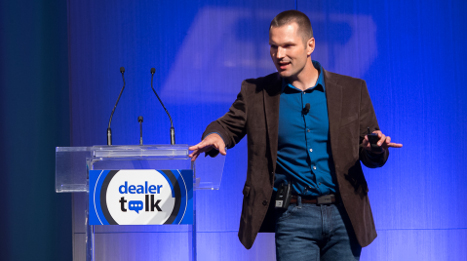 CALGARY, Alberta -
The countdown is on for the 2015 Calgary Dealer Talk conference, which will focus on topics ranging from marketing to sales, best practices and more.
After three successful years in Toronto, the half-day event — powered by Kijiji Autos and presented by CarProof — is heading to Calgary, Alberta for the first time this year.
The conference is scheduled for Oct. 1 at the Arts Commons, located at 205 8th Avenue S.E. in Calgary.
Conference organizers noted attendees will gain insights and practical information that will "change the way they do business," focusing on topics such as transparency, digital marketing, building trust, retaining customers, and dispelling negative stereotypes in the automotive dealer industry.
This past May, Dealer Talk Toronto hosted nearly 250 attendees for the one-day conference, 57 percent of which were dealers — both dealership owners and employees.
"The conference has a very high referral and return rate with 95 percent of attendees indicating they would return to Dealer Talk again and 96 percent indicating they would recommend Dealer Talk to others," conference organizers said.
Furthermore, the even has hosted representatives from Chrysler, Honda, Mazda, Nissan, Ford and more.
The fall Alberta event's keynote speaker will be Marcus Sheriden, founder of The Sales Lion — a sales, marketing and personal development blog.
Sheriden — referred to as the "Web marketing guru" by The New York Times — also spoke at the Toronto 2015 Dealertalk event held this past spring. Attendees were privy to an energetic presentation that outlined Sheriden's rags to riches story and how understanding consumer habits on the Web helped him find success.
For dealers, Sheriden focuses on the fact the industry needs to address consumer fears and anxieties around buying cars and how dealers can use the Internet and marketing to break down those barriers between dealer and shopper. His session this fall will be titled, "The Game Has Changed: How Sales & Marketing Changed Forever and What You Must Do About It."
Also on tap for conference speakers is Stuart Bendall, sales manager and director of marketing at Gateway Toyota Scion. Bendell's session is titled, "Straight From the Horse's Mouth: A Dealer's Perspective on Digital."
Joey Coleman, the chief executive at Design Symphony — which works to help organizations retain their best customers and turn them into raving fans — will also be speaking at the event. His session will be titled, "The First 100 Days — A system that is designed to dramatically increase your customer retention & bottom line."
Niel Hiscox, president of Universus Media Group Inc., will also be on board as the master of ceremonies.
"I'm so excited to expose our Western Canadian dealers to some of the most powerful speakers on the circuit," said Ryan Thompson, head of sales at Kijiji Autos, and host of the upcoming event.
The day will kick off at 8 a.m. with registration and breakfast, and Thompson will welcome attendees with opening remarks for the conference.
Registration for the event is $99 for single tickets, and for those buying multiple tickets, the price goes down to $89.99.
Check out the full Dealer Talk agenda below, and register here. For more information, see dealertalk.ca.
TIME
EVENT
8:00 a.m.
Registration and Breakfast
9:00 a.m.
Welcome & Opening Remarks: Ryan Thompson
9:15 am
Keynote Speaker: Marcus Sheridan, The Sales Lion
Topic: The Game Has Changed: How Sales & Marketing Changed Forever and What You Must Do About It
10:15 a.m.
Networking Break
10:45 a.m.
Featured Speaker: Stuart Bendall
Topic: Straight From the Horse's Mouth: A Dealer's Perspective on Digital
11:45 a.m.
Lunch
12:30 p.m.
Featured Speaker: Joey Coleman
Topic: The First 100 Days – A System Designed to Dramatically Increase Customer Retention & Bottom Line
1:30 p.m.
Closing Remarks: Ryan Thompson