Dealership, cafe, housing: all in 1 complex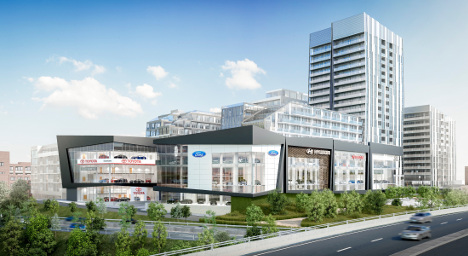 TORONTO -
Mixed-use developments are popular these days — think apartments over commercial properties such as cafes and restaurants.
But, add automotive dealerships to the mix, and you have Downtown Automotive Group's new project in the works: Riverside Square.
The new development, located in the southeast end of Toronto, will combine six dealerships — the part of the project which has been dubbed the Autoplex — over 800 condos and commercial venues.
The Autoplex is visible from the Don Valley Parkway and is located between Queen Street East and Eastern Avenue.
Representing seven brands, (Toyota, Scion, Lincoln, Ford, Hyundai, Nissan and Infiniti), the separate dealership operations within the Autoplex range in size from 35,000 square feet to 60,000 square feet, the largest being the combined Toyota/Scion location.
The project also marks the return of Ford and Lincoln to Toronto, which have been absent from the city for over nine years.
Shahin Alizadeh, president of the Downtown Automotive Group, discussed the giant project with Auto Remarketing Canada.
The project has been in the works for about three years, and the mixed-use development aims to bypass the prohibitive cost for automakers to do business in urban areas. Land values in Toronto have skyrocketed to $20 to $30 million an acre in some cases, Alizadeh said, as the population of the city continues to grow.
Downtown Automotive Group received its final approvals from the Toronto City Planning department a few weeks ago for the project, and recieved final approval by the City Council on Nov. 10.
Then, construction is on for the next 24 months. Phase I will include two towers and all six dealerships and is expected to be completed by November 2017 or December 2017. Phase II of construction will then begin, which will include two more towers and additional commercial venues.
"We owned a large parcel of land in downtown Toronto, and the land value was cost-prohibitive for a development from an automotive-purposes perspective … and the viability of the automotive sector in terms of how land values would be applied to the business model as a rent factor are becoming more and more restrictive and more and more prohibitive," Alizadeh said.
Since according to Alizadeh, the site could not sustain one or two dealerships, or even three, based on the absorbent land value, the dealership group had to get creative.
"We looked at consolidating our six dealerships in a more traditional manner, but the numbers didn't makes sense — the numbers were astronomical. So we ultimately, based on discussions, started thinking outside the box," he said. "And one of the things that we hadn't realized was that there was an opportunity for us to not only accommodate our needs, but also give us an opportunity to capitalize on a very, very strong real estate market in downtown Toronto."
The company partnered with Dream and StreetCar development companies to help plan and construct the mixed-use development.
"We were somewhat cautious about combining residential with automotive, but lo and behold, the City Planning Department seemed to really like it. And we felt that given the positive energy that the project had kicked up we should go full blast, and we have," Alizadeh said.
The Autoplex will tout four levels of parking, a service and reception area and individual service drive-through centers for every brand.
"We have really managed to accommodate all the specific needs, yet we contained the whole thing in a very manageable structure from a cost point of view," Alizadeh said.
When asked about the cost of the project, Alizadeh said from a construction viewpoint, the per-store cost is very "realistic," essentially keeping costs in line with what would be a "traditional cost for a dealership for these brands."
Since real estate values are becoming a real concern for automakers looking to launch dealership in urban areas, it didn't take long for the project to turn the heads of manufacturers.
The opportunity was particularly enticing to Ford and Lincoln, brands that had been looking for dealership opportunities in Toronto for almost 10 years.
With the addition of Ford and Lincoln, Downtown Automotive Group's store count will grow to nine.
And manufacturers on board for the project may have long-term plans in mind.
"I think what everyone is excited about is their ability to see a viable long-term business model that is not going to be subjective to real estate fluctuations," said Alizadeh. "Clearly, this is going to be a single-purpose facility, which almost assures the OEMs that it's not going to be replaced with anything else. So, win-lose-draw, this will be an automotive facility for a long time to come."
Alizadeh added, "We think we are onto something that may in fact be a cutting edge approach to combining automotive in urban areas, which has become a very difficult task."
And the industry is already catching on. Alizadeh shared he has had numerous dealer groups from different parts of the country, and the U.S., contact him, wanting to know the details about the new project.
"The proof is going to be in the pudding, when this building is completed. We are excited that we think we have addressed all of the idiosyncrasies of the automotive relationship to mixed use, and the kind of response we are getting is quite pleasant to hear," Alizadeh said. "Everyone seems to think that this is going to go beyond what we are doing to other parts of the country."