Dilawri furthers investment in Audi brand with new, CPO facilities in Thornhill, Richmond Hill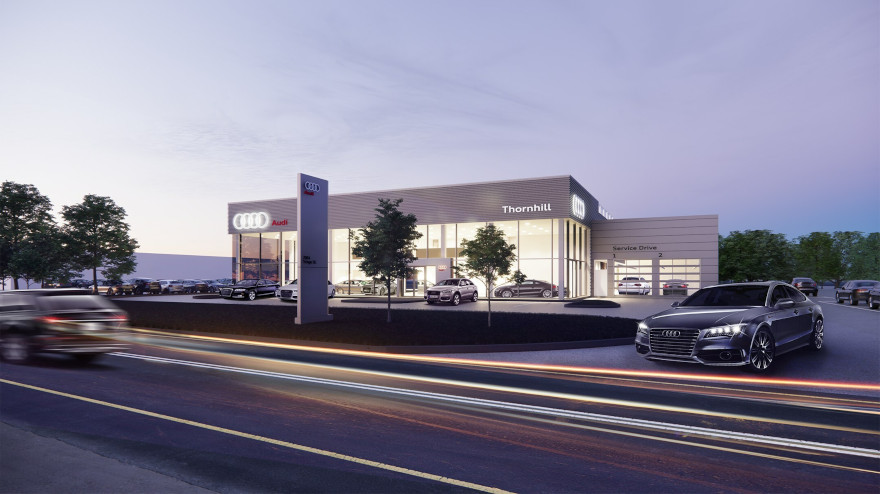 Audi Thornhill's new-vehicle sales and service facility located at 7064 Yonge Street has opened, leaving the store's temporary facility open for certified pre-owned to sweep in.
The temporary Audi Thornhill new dealership location at 7079 Yonge Street has been transformed into an Audi Certified :plus pre-owned sales facility.
The CPO facility will complement the new-vehicle location directly across the street, the dealer group said in a news release.
"Since it first opened (in 2020), Audi Thornhill has operated on the guiding principles of convenience and flexibility, which will be reinforced by these new developments," Dilawri Co-founder Kap Dilawri said in a release. "We are proud to have been awarded the opportunity to expand our operations and are excited to continue to explore new ways to deliver exceptional vehicle ownership experiences in all of our GTA Audi stores."
Further, the dealer group shared planning is underway for the construction of a satellite Audi Richmond Hill Certified :plus pre-owned sales and service location, as well.
The Auto Thornhill new-vehicle sales, service and parts operations will now do business out of an all-new 40,000-square-foot facility, of which construction began this past February.
Dilawri said in the press release the Audi dealership is the first in Canada to "feature Audi's Progressive Showroom Concept," first launched in 2022, which utilizes elements of sustainability, design, and digitization.
The new facility includes a private lounge, a multifunctional open lounge, a Nexus welcome area, vehicle stages, a library, a Progressive Lab for consultations on special topics and a two-car handover area, the dealer group said. The dealership also touts a dual-entrance service drive-thru that can accommodate up to 10 vehicles, mechanical service bays, a vehicle preparation area and multiple onsite electric vehicle chargers.
Since opening its doors at the start of the decade, Audi Thornhill's sales and service operations have been delivered from a temporary location.
Now that facility will be home to Audi CPO vehicles, equipped with a boutique showroom, two-car handoff/delivery area, mechanical service bays, a vehicle-prep area and onsite EV chargers. There is also planning underway for a solar-charging canopy, the dealer group said.
"Audi Thornhill is entering into an exciting new era," said Jordan Lin, general manager of Audi Thornhill GM. "These new and updated facilities will allow us to fulfill our goals while setting new standards, whether in terms of the ability to meet our customers' needs by offering specialized new and pre-owned sales and services, or our capacity to connect with our communities."
Further representing Dilawri's investment in Audi CPO, the dealer group is also opening a brand-new Audi Certified :plus pre-owned sales and service-focused satellite dealership at 9699 Yonge Street in Richmond Hill.
This is seven miles north of the Audi Thornhill locations. This location will be located in a mixed-use high-rise residential development.
The facility will include an underground reception and valet parking service, a fully equipped service and parts department, as well as a dedicated vehicle handoff area.
"This development is a reflection of our vision for the future of sustainable retail automotive operations in dense urban markets," said David Boots, vice president of real estate and strategic development at Dilawri.
Pre-construction is underway for the Richmond Hill location and is expected to be complete late next year.