Diversifying at StreetXtreme Auto Gallery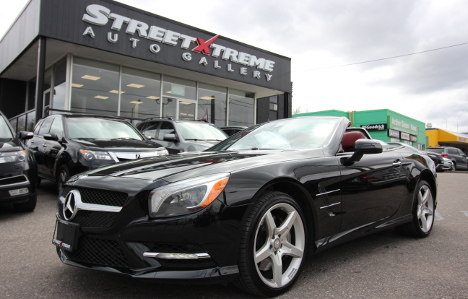 MARKHAM, Ontario -
StreetXtreme Auto Gallery president Patrick Hoang originally got his industry start as a mechanic about 15 years ago. Now he's developed a business as tuned and supportive as the machines he used to repair regularly.
The roots of StreetXtreme Auto Gallery germinated from the service and body shops that are still running strong. Hoang often handled reconditioning work for other dealerships. But then, about three years ago, Hoang started his own retail operation.
"We figured, you know what? It's going to benefit our service department and it's going to benefit our body shop … because we have that strong background in the repair and auto body side," Hoang said.
The independent dealer carries about 60 units in inventory, luxury models from Audi, Mercedes-Benz and Porsche, along with family haulers from Honda and Toyota.
"We try to find clean, accident-free cars. That's our niche," Hoang said. "We don't want to be the ones buying the car that's been flooded or has fire damage; or any type of damage, to be honest.
"We're not here to be the cheapest car out there because that's how you become the cheapest cars is you find damaged ones. We try to stay within the top five if possible in pricing but also offer the cleanest cars," he continued.
"If you want to succeed, you've got to start with a clean platform, especially in the used market," Hoang went on to say.
And StreetXtreme Auto Gallery makes efforts to bring these vehicles back to nearly the point where they just rolled off of the factory assembly line. Again, it points back to Hoang's background as a mechanic and body shop technician.
"Nothing gets past our eyes. There are a lot of dealerships out there that will just put the cheapest pads on there and use the cheapest labor that will do the work," Hoang said.
"When I was a full-time mechanic, I was approached by a lot of dealers saying, 'Hey can you install my brake pads for $30?' That's not the case here," he continued. "We order OEM parts from our suppliers. Our techs are doing the work. Everything is streamlined in-house. We put proper work into our cars. We don't like to sell cars with dings, dents and scratches because we have the ability to fix them. We usually try to get all of that sorted out beforehand.
"That's what makes us different from the rest of the dealers. There are no shortcuts taken here and we back it up. If there is a problem within the first 30 days, even if it's just a minor adjustment, it's not a problem. It's in the contract for peace of mind," Hoang added.
Hoang is continuing to diversify his business. To continue to help the service and body shops, the operation is looking to add a rental car fleet as well as trucks to transport inoperable vehicles in for repairs.
"This is just the start," he said. "We're looking for different avenues to complement our business. I think it's going to be a very big year for us."
This story appears in the Leading Independent Dealers section of the May/June issue of Auto Remarketing Canada.