Driving Business with Referrals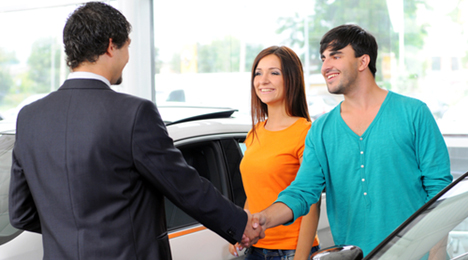 TORONTO -
When a shopper walks on to the lot, you and your sales team start working for that potential buyer. But is that buyer working for you once he or she leaves with a new ride?
James Hayes, co-founder of mobile software development company Mobials, says this may not be as far-fetched an idea as it seems.
The key? Referrals.
Dealers are all familiar with trying to capture reviews, and ensuring your Google and Yelp review score is above 4.7, but Hayes contends dealers should be turning their focus more towards capturing referrals from their happy customers.
Hayes says when starting a referral program, one must look at every customer that walks through the door as their own little marketing channel.
Though his company's solution does provide tools to generate and publish customer reviews, Hayes says Mobials' representatives focus on the referral side of the business even more.
"We don't go into a dealer and showcase a one dimensional review service; we showcase our 'Share&Earn' referral process, which when executed within the dealership drives sales and service referrals, increases customer retention and builds great online reputation. That is where our focus has pivoted as we have listened to what our dealers have asked for," Hayes said.
Social Word-Of-Mouth
The rise of social media has also presented a unique opportunity for dealers when it comes to referral programs.
Most dealers are familiar with traditional "word-of-mouth" bird dog programs (referral sales programs), but Hayes says they are often not systemized process within the dealership, do not leverage mobile technologies and they do not capture the power of social media, therefore, dealers may be missing out on big opportunities.
"Most of the time, it is just a program that showcases business cards; for example: 'Please give a friend my card. If they come in and buy, we'll pay you $100.' But it is not a program that captures what we consider to be the most important element of a happy customer. And that is their extended social networks of family and friends," Hayes said.
To reach this network, Mobials offers its "Share&Earn" program that consists of a training process and proprietary mobile and Web-based platform to allow dealerships to capture traditional word-of-mouth as well as social word-of-mouth from their customers in sales, service and collision.
"The Mobials 'Share&Earn' program supplies the dealership the training and tools to execute a referral program for todays connected customer," says Hayes.
Hayes calls this process "recommendation marketing."
"Our focus is on asking for referrals. Through that process, you are getting your customer to be your best unpaid marketing sales force," he said.
First, Capturing the Content
The first key to using referrals to drive traditional and social word-of-mouth, of course, is capturing the content.
"You first have to capture that content, because personalized content from your happy customers drives trust," Hayes said.
"A lead generated by a referral has a much higher closing rate. They tend to catch people much earlier in the sales process. So by rewarding people for sharing and showcasing their satisfaction online, you're opening yourself up to a plethora of sales opportunities," Hayes said.
Think about it like this.
Who would know if you were in the market for a car or if your car is in need of service? Well, probably a friend or family member.
"And if you have enlisted their help through a referral program to drive traffic passively, as well as rewarding for people telling friends to come in, you're going to be able to generate more leads," Hayes said.
When creating a referral program, Hayes says it really comes down to how you look at your customer base.
"In the Share&Earn referral program we call this 'farming your customer,'" he said.
For example, in the process of a close, Hayes suggests you ask if the customer has Facebook or other social media channels — start the conversation.
"You could have someone standing in front of you that has 3,000 Twitter followers in your local market, and you'll never know because you didn't ask," Hayes said.
Many in the industry would agree that the idea of sending out advertisements in the press and in the local newspaper isn't necessarily always the best way to reach customers anymore as online and social become the primary ways to engage people and provide information.
And Hayes says this is good for dealers, because now they have access to free marketing channels across the Internet. These new channels are their happy customers, and they just need the process within their dealership to engage them.
"If you thought of every customer as a broadcaster to 50, 100, 200, 3,000 people, the question is, are you finding out what kind of broadcaster they are? Are you figuring out if you have given them a great experience they would want to tell their family and friends about? Have you earned their trust and most importantly are you asking them for a referral?" Hayes asked.
The key, he said, is figuring out how "you get those little antennas (customers) that are in your service and sales department every day to work for you."