DRIVING INSIGHTS: Why did that customer turn down your trade-in offer?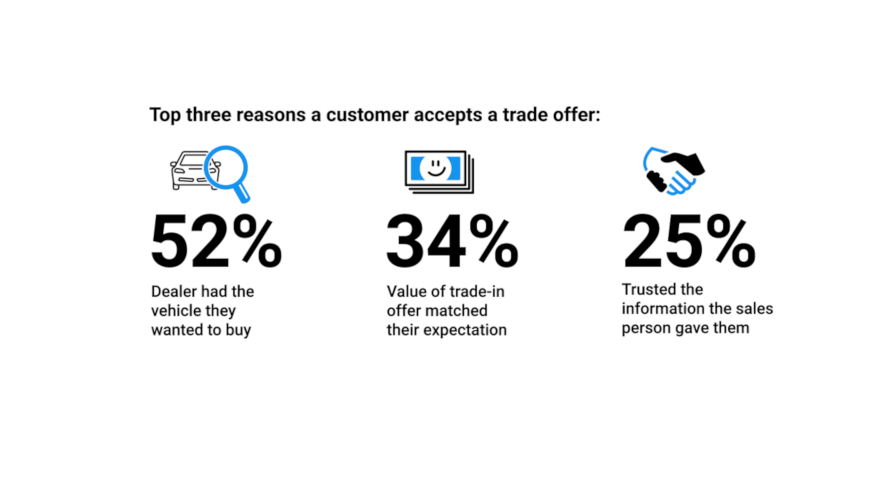 If you want to win more trades, you need to know exactly what makes a buyer reject or accept a deal.
Today's used-car buyers are hard to impress: 45% of them that go through the trade-in process will turn down one or more offers. So why did your last offer get turned down, and how can you turn it around on the next deal?
What drives a buyer to reject your offer?
The top reasons to turn down a trade shouldn't be a big surprise, but stay with us; there's a lot more to the story. Among used-car buyers, 50% of trades are rejected because the offer was lower than they expected, followed by 23% of used-car buyers receiving a better offer elsewhere and 18% believing the offer was not well thought out or justified.
Then why do they accept?
Where the story does get surprising is when we asked the opposite: what made a customer accept a trade in offer? It turns out that, while a low trade-in value can lead to rejection, just simply offering a higher price isn't the path to winning the trade.
For used-car customers who accepted a trade, 52% said they did so because the dealer had the vehicle they wanted to buy. After that, 34% said the offer matched how much they expected, and finally, 25% said they trusted the information the sales person gave to them.
An offer that is below expectations can kill a trade, but winning a trade is more about the customer getting the used vehicle they want and feeling as though the price and trade process were acceptable.
How can this help you?
Winning a trade, and likely the sale that goes with it, isn't about pumping up a trade-in value so the customer thinks you're giving them a fortune. The first step towards winning the trade is ensuring the customer has their heart set on the vehicle you're selling. In the used market, if the customer understands the reasons why your vehicle is unique, and that they won't find a better one anywhere else, you're already halfway to winning the trade.
With the customer sold on their next car, you then need to create a trade-in process that manages their price expectations in a trustworthy manner. We already know how to do this because we know how used-car buyers prepare for the trade in process.
This effect is so strong that 43% of used-car buyers will accept a trade in value that is lower than expected because they fell in love with the car. Winning trades in the used-car business is about helping buyers arrive at an agreeable trade-in number so they can forget their old car and get into their next one.
Driving Insights is an information series written by Drew Harden, Manager, Research & Insights at CARFAX Canada. This research is based on seven weeks of face-to-face interviews with dealership staff and management from coast to coast, followed by a nation-wide survey of 1000 Canadians who have bought a used car at a dealership in the past six months. If there's a question you'd like us to address, email askdrew@carfax.ca and we'll get you some answers.