DRIVING INSIGHTS: Win the trade today and a customer for tomorrow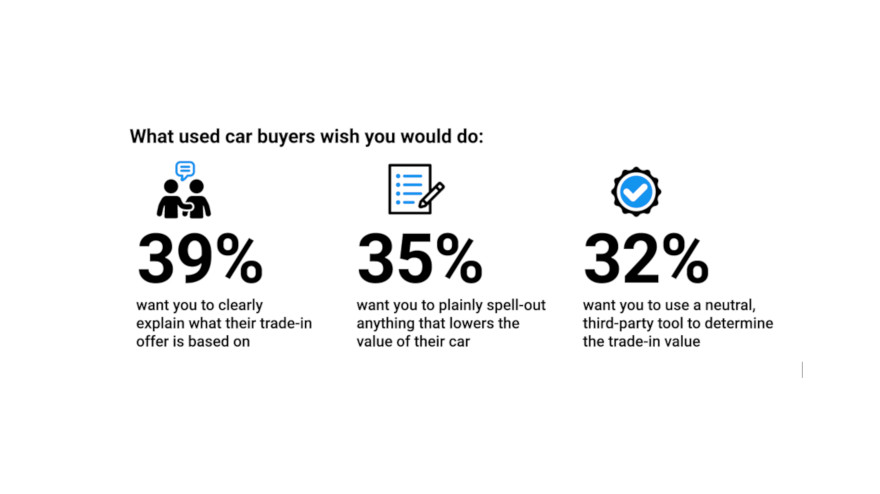 Have you ever heard of someone winning a deal and losing a customer at the same time?
Winning a trade today is great, but the business of selling cars and getting great trades is quickly becoming more competitive.
So how can you create a trade-in process that not only wins deals today, but makes that customer excited to come back next time?
Canadians don't love the trade-in process
Among Canadian used-car buyers who traded-in a vehicle, only 64% said their trade-in experience was good or excellent; this is just barely better than their feelings about the negotiation process which is rated as the worst part of buying a used vehicle.
Improving the trade-in process so it wins cars and creates an excellent experience will not only help you sell more today, but it helps bring more customers in tomorrow through referrals, reviews and repeat business.
What used-car buyers wish you would do
Improving the trade-in process is all about justifying how your price was determined, then doubling down on that justification. We asked used-car buyers, including those that didn't consider a trade, how the experience could be improved in the future.
Thirty-nine percent of buyers told us they want you to clearly explain what their trade-in offer is based on (e.g. auction values, comparable sales), while 35% wanted you to plainly spell-out anything that lowers the value of their car (e.g. tires need to be replaced, dents need to be fixed).
Finally, 32% needed some external validation and would like to see you use a neutral, third-party tool to generate the trade in value, to help reinforce your offer.
Justifying your offer is time well spent
Through justifying trade-in offers, you can create a process that keeps customers coming back. Not only do customers want this going forward, it's already working for dealers who are doing it now.
Used-car buyers who go through a trade-in process today that includes a vehicle history report, a valuation tool from a third-party service, and/or the sales person showing comparable vehicles, are more satisfied with the trade-in process than average.
Taking the time to justify all the details about the trade-in process is going to help your customers feel confident that they're getting a fair offer for their vehicle. They can start to focus on how much they're going to love their new car! This may take more time, but that's actually not a bad thing; when used car buyers were asked how dealerships could improve the trade-in process, making it faster came in dead last.
Getting rid of an old, unwanted vehicle should be a highlight of the used-car buying process for your customer. By making clearly justified offers, you can make a trade-in process that drives repeat and referral business to your store.
Driving Insights is an information series written by Drew Harden, manager of research & insights at CARFAX Canada. This research is based on seven weeks of face-to-face interviews with dealership staff and management from coast to coast, followed by a nationwide survey of 1,000 Canadians who have bought a used car at a dealership in the past six months. If there's a question you'd like him to address, email askdrew@carfax.ca.