Estimated 2.7M RAV4s to be recalled for seatbelt issue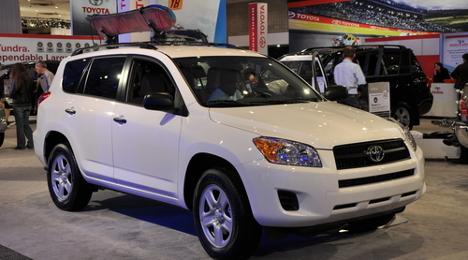 OTTAWA -
Transport Canada announced Thursday it has uncovered a potential dangerous defect in some Toyota RAV4 vehicles — a recall that is estimated to affect over 2.7 million RAV4s globally.
Transport Canada and Toyota Canada reported in a severe frontal crash, contact with the steel structure in the seat may cause the rear seat belt to be cut in effected vehicles.
Nearly 150,000 of those RAV4s are in Canada, which are immediately being recalled by Toyota to address the issue. The model years affected span from 2006 to 2012.
Transport Canada discovered the issue after reconstructing a fatal crash involving a 2011 RAV4 in Canada.
The department was particularly interested in this crash, since the front occupants of the vehicle survived the frontal crash, while the read passengers did not survive.
"This is more than just a case of Transport Canada finding a safety problem and doing a thorough investigation. These findings have a real-world impact — and it's measured in human life," said Mar Garneau, Canada's minister of transport.
"As a result of the department's investigation into this safety issue, lives will be saved in Canada and around the world. These findings underscore the importance of our crash test and safety oversight programs, and I'm very proud of the department's research engineers and investigators — they've done some tremendous work for Canadians," he continued.
In the replicated crash, Transport Canada used a RAV4, crash dummies similar in weight to the actual passengers, "as well as an impact speed and crash angle that aligned with the fatal crash," the statement said.
And during the test, both rear seatbelts severed, and both crash dummies sustained potentially deadly injuries.
The department presented its findings to Toyota once its investigation was complete, prompting a subsequent investigation by the automaker, which confirmed the problem.
An official recall was announced Wednesday, and the automaker will install seat flange covers to correct the seatbelt defect.
"Transport Canada will monitor this recall to ensure Toyota addresses the issue as quickly as possible," the department said.
Affected owners are asked to contact their Toyota dealers to schedule a time to have the defect repair work completed.
Sister publication Auto Remarketing reported Thursday Toyota Motor Sales, USA announced that it is conducting a safety recall of model-year 2006 to 2012 RAV4 and 2012 to 2014 RAV4 EV vehicles for a potential seatbelt issue, as well, affecting approximately 1,124,000 vehicles in the U.S.
For more information, see www.tc.gc.ca/recalls.