European Brand CPO Sales Soar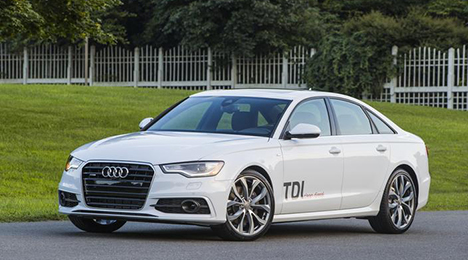 TORONTO -
As December and full-year 2013 certified pre-owned results came in, it's evident that while European automakers saw CPO sales rise consistently throughout this past year, Japanese brands were feeling the sting of tight used supply. One European brand even notched its best year ever for CPO.
After selling 264 vehicles in December, Audi Canada recorded its best year ever for total CPO sales. Certified sales for 2013 came in at 4,961, up 19 percent versus 2012.
Porsche Canada ended the year with a bang, reporting its best-ever year for the certified program. Porsche Canada sold 1,052 CPO units in 2013, marking the program's best-ever annual performance, as well.
Volkswagen Canada pushed ahead in December with a 15-percent increase from 2012 sales. VW sold 1,006 CPO units in December, up from 872 sold during the same month of 2012. These results pushed them ahead for full-year, as well.
December sales pushed the automaker to 14,776 CPO sales in 2013, up 7.8 percent from the 2012 figure (13,711).
"This was another fantastic year for Volkswagen Canada. We had tremendous support from our dealers, strong programs and our used-vehicle brand 'Das WeltAuto' played a significant part in our overall growth," VW officials said.
Mercedes-Benz also saw an uptick in its pre-owned division sales in 2013. The company reported 832 CPO deliveries in December, which is up 1.7 percent from year-over-year. At the end of the year, a total of 13,173 CPO vehicles were registered by dealerships from coast-to-coast, the automaker reported.
Over at Volvo Canada, the automaker sold 1,417 CPO vehicles in 2013, an 8.2-percent increase over 2012.
"Volvo Canada's competitive certified pre-owned sales program continued to see increased interest over the year," said Emanuel Lichtinshtein, national fleet sales, CPO and remarketing manager, Volvo Cars of Canada Corp.
The story this past year for Japanese automakers in Canada reads a bit differently.
Mazda Canada ended the year with a bit of a drop from 2012 levels. The automaker sold 220 CPO vehicles in December, down from 326 sold during the same period of 2012. That said, the automaker still sold 5,070 certified rides in 2013, rounding out new program's second year.
Toyota Canada ended the year with a slight decline in sales, a trend which has proved true for most of 2013. The automaker sold 1,313 CPO units in 2013, down from 1,412 during the same period of 2012. Toyota Canada sold 22,196 CPO rides in 2012, down from 24,531 during 2012.
Honda Canada was in the same boat, selling 1,054 Honda CPO units this past December, down from 1,768 sold during the same period of 2012.
Honda Canada sold 18,312 CPO vehicles in 2013, down from 21,886 sold during 2012.
The automaker's luxury arm also saw a drop, with 177 CPO Acura sales this December, down from 245 during the same period of 2013. For the full year, 3,006 CPO Acuras were sold, down from 3,540 sold during 2012.
Honda Canada CPO management attributes much of these drops to the lack of quality, used supply in Canada.
"With December closing out the year with extreme weather conditions in a year where the entire Canadian market was already operating under a tight used vehicle supply, it's easy to say that 2013 was a trying year," said Todd Fowler, manager of used-vehicle operations at Honda Canada Inc.
"Although falling short of the certified sales to the year previous, our dealer networks promoted and certified a greater percentage of the eligible certified vehicle supply. This displays a commitment and dedication to the certified brand, one in which we have confidence our dealer networks will take to face the challenges set in 2014."